United Nations 'Playing for the Planet' Alliance Annual Impact Report 2020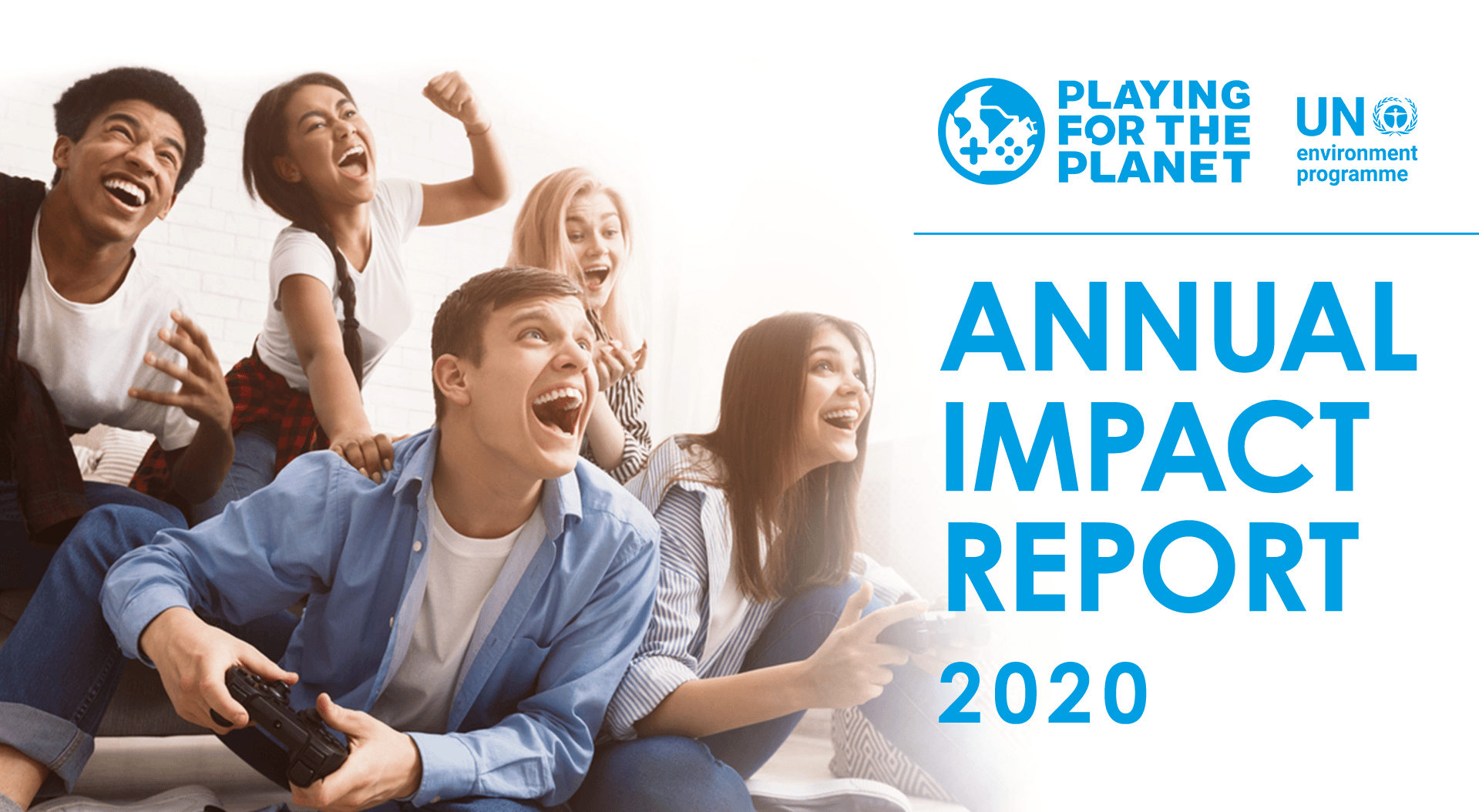 The games industry is one of the biggest entertainment mediums of our time. Not only are games played by one in three people on the planet, but its core facets of leveling up, going faster, scoring higher, and taking on the impossible, are all critical ingredients we need to gather and direct into the greatest challenge of our time: climate change.
Enter Playing for the Planet, an alliance launched in September 2019 by the United Nations Environment Programme (UNEP) to support four core objectives:
Rally the industry to reduce its carbon footprint so that it has the tools to measure, reduce, and set targets to decarbonize
Inspire environmental action through green activations in games
Share the learnings of the initiative so that others within the industry can follow suit
Explore new strategies for the future around new games and approaches to storytelling
In its inaugural year, 29 video game companies, including Sony Interactive Entertainment (SIE), have formally committed to harnessing the power of their platforms to take positive action on the climate crisis. With all the members of the Alliance, UNEP recently published their first 2020 impact report detailing the collective and individual impact that the alliance has made against these four core objectives, which you can read in full here.
Companies joining the Alliance must make specific and measurable commitments to act for the environment and report on progress each year – and SIE has been a key player in this project. So far, the company committed to PlayStation 4 energy efficiency measures that will result in around 30 million metric tons of avoided carbon equivalent emissions by 2030.
SIE has confirmed that they are on track to achieve this commitment and with the new PS5 console, they have included the capability to suspend gameplay which would lead to lower power consumption. (editor's note: for more details on SIE's achievements, please see: PlayStation's One Year Update on "Playing for the Planet")
However, it's not just in the hardware that environmental dividends are being made, really exciting new innovations are being taken up through games as well. SIE has also collaborated with UNEP to produce a VR360 educational video, created using Dreams, and co-created an environmental game which sought to gamify collecting marine litter with local New Zealand charity, Sustainable Coastlines.
The Green Game Jam in 2020 saw 11 mobile gaming companies test, pilot, and explore a range of green activations in games which ended up reaching over 110 million people1. This year it's set to scale exponentially with the aim of reaching 1 billion gamers. We're delighted that this year major console companies will be added into the jam, which are all committed to explore green interventions in a range of games they make.
While in its infancy, this coalition has already in 18 months taken big steps forward, and is set to accelerate further in 2021 with more companies committing to meet net-zero and join in the Green Game Jam this summer. But what makes it special is the humanity and kinship amongst the members. It's this spirit of collaboration and shared interest – not competition – that will yield the greatest returns for all of us to learn and replicate against.
Last year was a year of challenge, adversity, and a test of our resilience. The climate crisis requires everyone's attention and our united efforts – and the gaming industry has the right tools to handle this: urgency, creativity, and inspiration. In 2021 we will continue to explore how we can deploy all of these and support the industry to play for the planet.
1 See combined reach of Green Game Jam 2020 on page 17 of United Nations Environment Programme (2020) Playing for the Planet Annual Impact Report.