A Conversation with PlayStation Studios Senior Foley Artist Joanna Fang
Conjuring Fantastic Worlds Through Creative Sound Design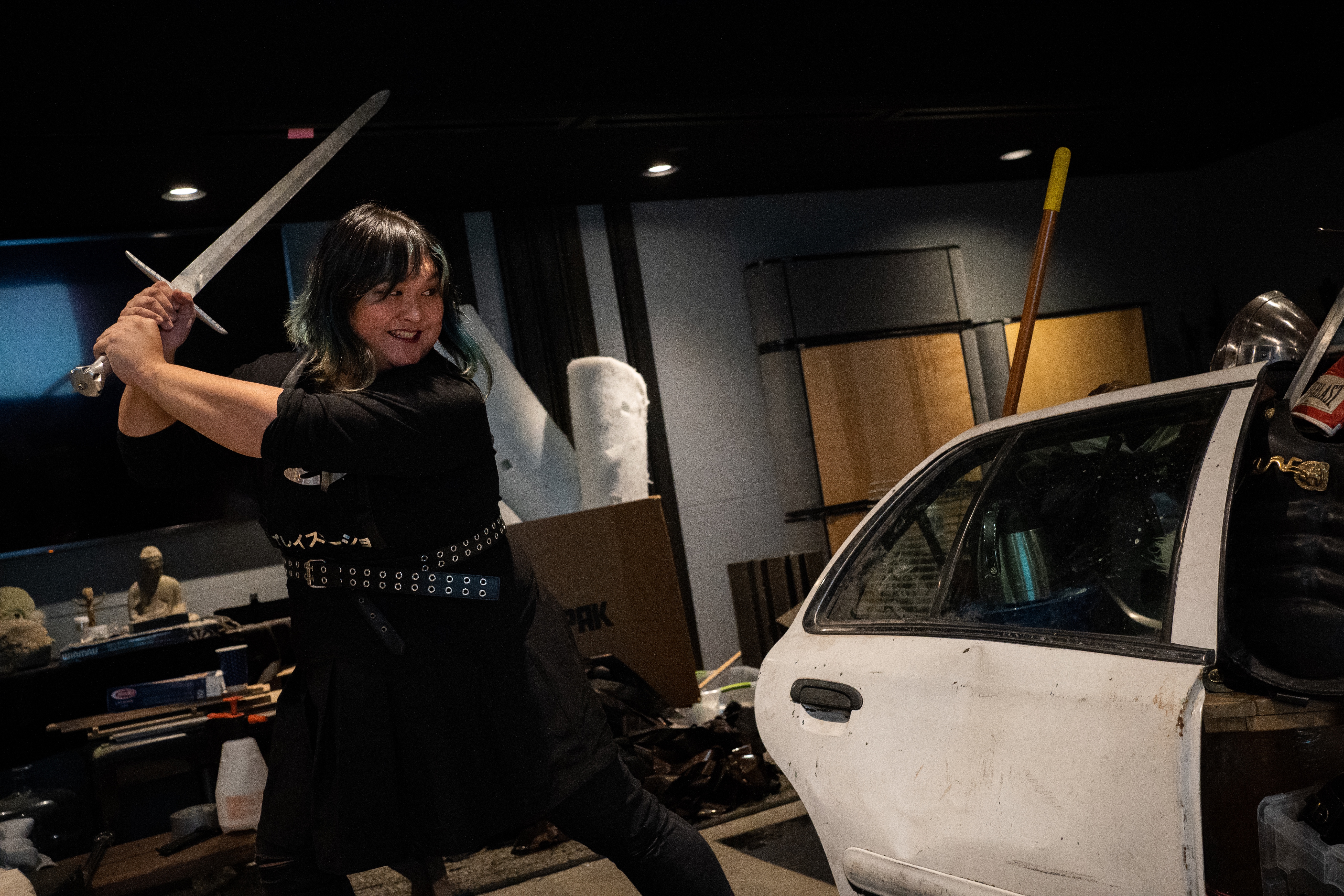 When it comes to crafting the vibrant worlds found throughout PlayStation's first-party game lineup and pulling players into them, PlayStation Studios' Senior Foley Artist Joanna Fang is an architect of story who builds with sound. "Sound in many ways is the first form of storytelling," says Joanna. "The evolution of language coincides with the development of the human brain and communicating our stories is intrinsic to human beings whether around the tribal bonfire or on a Twitch stream."
Non-diegetic sound includes things like a game's soundtrack that sets the tone as players progress through a level or narration from an offscreen character. Diegetic sound, on the other hand, focuses on the sound that happens within the video game's digital world. This is Joanna's specialty.
"Sound is extremely valuable for the gameplay experience, storytelling, immersion, impact, and sympathy we give our players," she says. "Imagine trying to sell a completely silent video game!"
Her expertise is one of the reasons she was the perfect person to chat with as she describes her craft and shares how her Asian heritage and gender identity influenced her journey and her career at PlayStation Studios.
From A Minor In Music to Major Impact
Joanna minored in music as she sought her degree at New York University and, after graduating with a Bachelor's Degree in Film and Television, she blazed a career path that spans from work as a camera operator for public access television to Senior Foley Artist at SIE.
"In college, I was obsessed with finding the shared DNA between music and film," Joanna says. "I knew there was this incredible weightlessness that I felt when lost in a melody or operating the camera and wanted so desperately to distill that feeling into its purest form."
Joanna transferred to NYU Film, thinking her time engrossed in music was behind her, but her sight singing and musical improv skills caught the ears of her filmmaker classmates. With some encouragement, her friend David Miller convinced her to try Foley. She was hooked.
"It was a bit of beginner's luck and looking back after all of these years, the sounds themselves from those early forays into sound design weren't particularly good," she says. "However, the pure joy I felt empathizing with the actors and scoring every footstep and prop perfectly abstracted my love for music and visual storytelling. I graduated, apprenticed for a master Foley artist, won an Emmy, got through the lockdown, and now I'm here at PlayStation adapting my passion for Foley into game audio!"
A Tapestry of People at PlayStation
Earlier in her career, Joanna encountered a transformative experience when she was able to Foley an independent film by a Chinese American director. It was one of the first times through the film's characters that she felt truly seen. She found herself lucky to "have worked in the independent film world where narratives surrounding Asian American identity and trans experiences were prominently in the zeitgeist."
Joanna's journey and encounters like working on that film are a couple of things that inform her perspective as part of PlayStation's employee networks (eNets): API@PlayStation and Pride@PlayStation. "I see the eNets as part of a cohesive and intersectional whole," Joanna says. "My Taiwanese-American ethnicity and gender identity are undeniable, interconnected, and essential parts of me. I spent years of my life alienated by the lack of API representation especially in the New York arts and entertainment world, whereas the API@PS eNet is a living and ever-present reminder that I am not alone in this massive and global company."
"PlayStation and its products are a cultural institution and brand defined by a tapestry of people," she continues. "Whether folks are on our internal API Slack channel discussing the best boba in the San Gabriel Valley or in a Teams call with guest speaker and the lead vocalist of alternative pop band Japanese Breakfast, Michelle Zauner, I never need to reach out in order to feel seen, heard, and included."
Classically Trained Ear
Joanna followed a path very similar to many American-Born Chinese . She attended music school since preschool and was always encouraged to enrich her life with music. Her mom, a 1st generation Taiwanese American immigrant, was a self-taught pianist and was forbidden from having a career in music due to the cultural stigma of the profession.
"When she immigrated to America and started her family there, she vowed to never let myself or my two older sisters be deprived of the opportunities she lost in her youth," Joanna says. "At a young age, I started performing in grade school musicals, learning arias, and singing with the local choir; my mom attended every show, competition, and voice lesson."
"My love for music started with my mother's love for her daughters and the Asian diaspora gave us all the opportunities her generation had been deprived of," Joanna explains. "Eventually I moved to New York wanting to be the next Jeff Buckley and sing everything from countertenor arias to Led Zeppelin. It was a rough ride, but I am glad that my youth of study and performance led me to Foley art. "
Of Sound Importance
Many games from thePlayStation Studios library are high-end visual feasts that emulate a cinematic experience and, thus, as Joanna says, "have inherited the expectations and language of cinema sound."
"In the last century, sound was the first key adaptation by film as essentially a new haptic technology that aimed to create more immersion through sonic and synchronic means," Joanna says. "Sound vibrates the air and shortens the distance between the screen and the audience; it paints images with a sense of texture, weight, and touch. An absence of sound often leaves the viewer feeling disconnected and erodes the audience's empathy with the characters."
The participatory nature of gaming, Joanna explains, requires her to "re-conceptualize the art form at its most fundamental and granular sounds." See, or rather hear, what this means in a recent media interview Joanna participated in.
Moment of Pause and Reflection
Joanna hopes to see a future where characters like Seyka and Aloy from Horizon Forbidden West: Burning Shores are more common, giving teams the space to "craft performances that reflect our culture with the sheer empathetic power that only exists in games."
"I yearn for the day when cultural representation in a major game or film isn't so cynically picked apart," she says. "I have hope that at PlayStation, we can earnestly and empathetically deliver stories that are representative, and undeniably towards the truth of an experience in the biggest way possible."
"A lot of us are far from home. I still struggle with some of the memories and experiences of Sinophobia especially to the elders of the API community," she says. "While our heritage isn't solely defined by food, culture, and language; I'd like to encourage folks who aren't as social to focus on the small things such as the intimate rituals that bring you a sense of home. Call your parents! Cook your favorite dish and share it with your closest friend. Celebration doesn't need to be defined by big social outings. Celebration can be as intimate and graceful as connecting with your roots with your closest friends. This month, give yourself that moment of pause and reflection."
To celebrate this May's Asian America Pacific Islander Heritage Month, SIE's API@PS eNet is hosting workshops inspired by our diverse community, talk sessions that highlight seasoned employees with API heritages, and cultural gatherings that share the unique perspectives and cultural diversity of our employees. Just as Joanna is fueled by a passion to use sound to empathetically deliver stories and connection with audiences, SIE is passionate about fostering a sense of belonging and a place where every voice can be heard.
If you are interested in a career at Sony Interactive Entertainment, please take a moment to look at our opportunities at PlayStation Careers.