"I still think we have only scratched the surface"
Executive Spotlight: Ueli Gallizzi, SVP, Future Technology Group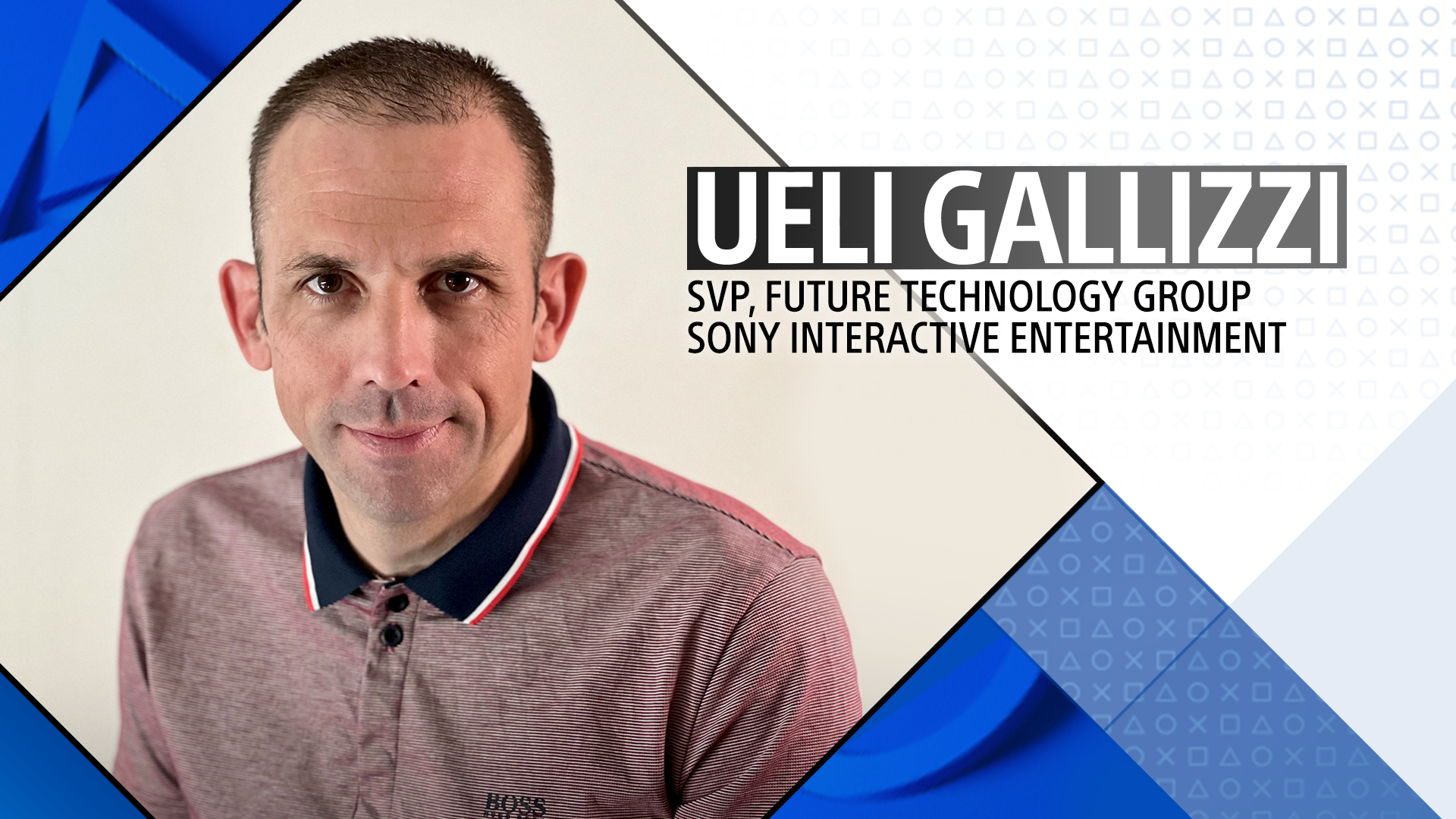 In order to remain at the forefront of technological innovation, Sony Interactive Entertainment (SIE) is in a constant state of reinvention. We must rely on visionary leaders capable of pushing the boundaries of modern-day hardware and software to achieve this goal. One such leader is Ueli Gallizzi who serves as SVP, Future Technology Group.
"Our new group is called the Future Technology Group. The goal of this group is to build new and exciting future technologies for SIE and for the PlayStation brand."
In the broad space that is technological development, Ueli's main goal is to lead teams within the company to research and develop the foundations for new technologies that will help push the PlayStation brand, and the industry as a whole, forward. In essence, his team intends to plant the seeds that will shape the future of the gaming landscape. "At a very high level, we are researching and building the future technologies for SIE. We really try to push boundaries, try new things out. Where can we go? What can we make better with current technology?" Said Ueli. "We look into upcoming and interesting things that can help us in the future and explore what new things we can bring to our users."
Soaring in the clouds
Specific points of focus for SIE's technology groups include infrastructure architectures, building networks, and distributed systems. These are areas where leadership has identified a fair amount of growth potential, and that has undoubtedly drawn Ueli's attention. "Over a network you can share, compute and distribute workloads and then transfer the output where it's mostly used. This concept is very powerful in my opinion and can unlock endless possibilities," shares Ueli with excitement.
The practical application of these concepts has led us to what we commonly refer to as cloud computing gaming and the rise of services such as PlayStation Now. In regard to these technologies, Ueli believes some of the ideas behind the creation of Gaikai back in 2008 are still very much relevant in this day and age at SIE. "In addition to the console market, the gaming industry will grow and evolve like the music and movie industries where computing could happen somewhere in a data center and the output would be streamed to any device the user wants the experience to be on," said Ueli. "This path allows for endless possibilities of how you can make games more engaging."
"I still think we have only scratched the surface."
But, what lies under the hood of an effective leader like Ueli, and how did he find his way into Sony? Before joining the ranks at SIE, Ueli was already making great strides in the technology sector as the fourth founding member of the Dutch startup Gaikai. First as Vice President of Cloud Computing and subsequently as Chief Information Officer, Ueli paved the way for Gaikai to develop a cutting-edge, top-of-the-line streaming service. This was made possible only by the implementation of a revolutionary cloud architecture optimized for high-end video game streaming. After SIE's announcement of the formal agreement to acquire Gaikai in 2012, Ueli joined the PlayStation family. Since then, he has been instrumental in the development of the PlayStation Now and Remote Play programs. He currently leads our technology group with the objective of developing cloud-based solutions and other cutting-edge experiences.
In most cases, in order to succeed in the gaming industry, a certain affinity with games is required. Ueli is no exception, "I had owned a PlayStation one and always had all the PlayStation consoles," a nostalgic Ueli told us. "My favorite games are like RPGs. Recently I've enjoyed playing God of War Ragnarök and it's awesome! I love playing Ghost of Tsushima and Horizon Forbidden West". The energy and enthusiasm that Ueli instills on the Future Technology Group is one of the many reasons behind the team's motivation and willingness to redefine what is possible. "Working for PlayStation was such a big aspiration for me. It is a real honor to be part of this organization. Working with cool ecosystems and really helping push the boundaries of what we are able to do here".
Outside of his hi-tech day-to-day work at SIE, Ueli is a family man and an outdoors enthusiast. "I love to go to the mountains. I like climbing a lot. On rock, but also on ice, like frozen waterfalls and things like that," laughs an enthusiastic Ueli. "I don't get to climb much [now], but I get to ski. I love skiing". At SIE we are on our own journey to get to the top, so it is certainly nice to have a leader with actual practical experience in mountain climbing to help us get there!
Very much aware that R&D in the future technology space is a path of trial-and-error, Ueli shares some words of wisdom for those taking their first steps into the industry. "I think it's most important that you're passionate and you like what you're doing. I think pushing the boundaries and going beyond – don't be discouraged when it doesn't work out. Don't look at this as a failure, but see this as part of the process. You know what works, because this will give you the tools and the knowledge to succeed in the future".
In an effort to continue spearheading innovation in the gaming industry, we are always looking for the best talent around the world. If you would like to join Ueli's team and help shape the future of gaming technologies at SIE, jump into our PlayStation Careers page to browse available positions.