Leadership Spotlight: Trang Ho, VP of Product Management, Product & Data Strategy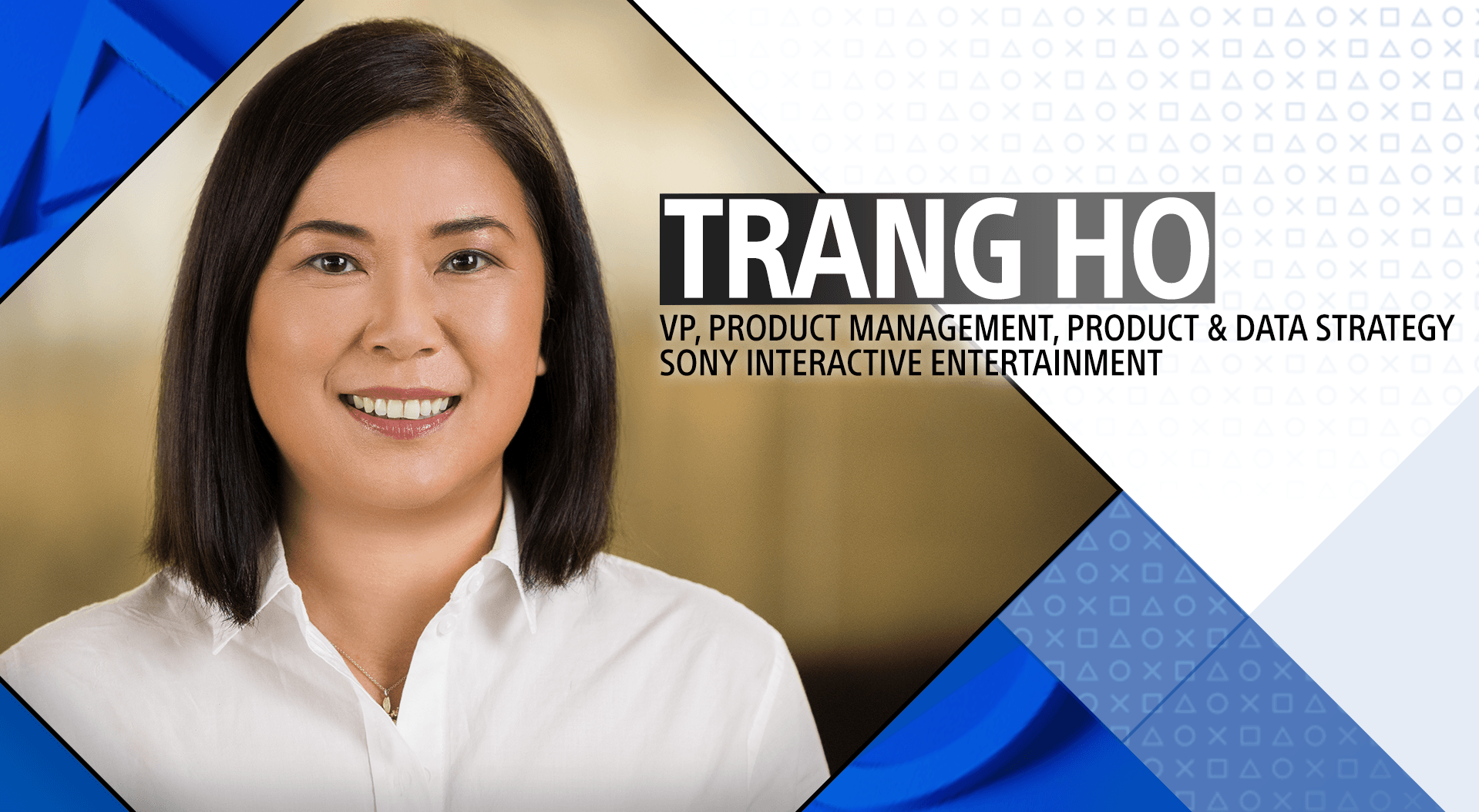 Trang Ho is the Vice President of Product Management, Product and Data Strategy within the Platform Engineering Group (PEG) at Sony Interactive Entertainment (SIE). But just ten months ago, she had a completely different role.
"In 2022, I was on the engineering side as the Vice President of Software Engineering for Gaming Experiences at SIE," she says. "I had been in software development, programming and engineering for twenty years before I made the switch to product management and data strategy. I moved from a pure day-to-day in engineering—building things, primarily—to the other side of the equation: acting upon questions like why do we build a certain thing?"
The change came as Trang celebrated seventeen cumulative years with Sony Interactive, where she recognized that her wealth of experience and expertise in software engineering could be applied to other divisions within the company she'd been working at for most of her professional career.
The ability to make that kind of shift at that stage of her career was an opportunity that Trang didn't take for granted, reflective of the supportive working environment that she'd long enjoyed at SIE.
"Even though I had briefly left Sony Interactive to work elsewhere, there's a very special thing about this company that I've never had anywhere else," Trang says. "You can work with advanced technology in many companies and you can be creative in a lot of different companies. But to be at a company that really celebrates creativity, and celebrates the use of technology to further that creativity, is something special."
Programming a Career
Perhaps like many industry veterans, Trang didn't know for certain where she would end up when she first began working in gaming. She'd been a programmer for a startup company that unfortunately was going out of business when she was there, prompting her to consider the many different paths available as a next step. "I thought I'd go back to graduate school," she says. "I thought—perhaps I'll be a programmer for a couple of years and then go to med school after that. But, of course, that's not where the journey landed."
Her skills in programming and coding in her early career led her to Sony Interactive Entertainment in 2003. Always an avid gamer, Trang quickly came to appreciate the creative side of the business, working across many different titles in the multiplayer gaming space, where she cultivated an appreciation for the craft of game development.
"I started out in online multiplayer—doing network online games for consoles—and that space was changing constantly," she says. "We were adding new things all the time. That constant change and desire to do something different for the players meant that I never got bored. I blinked and ten years had flown by."
The Art of Collaboration
Along with her years of experience in game development, Trang is equally passionate about high-level leadership and team coordination, especially in her current role in product and data strategy. "In engineering, you're solving the problem of how things are done and how things are made—there may be a particular problem or a particular thing that you're trying to solve. But in product engineering, you're answering the bird's eye view question: why does it need to be done that way?"
As a leader, Trang is responsible for communicating these types of big-picture concepts to individual members of her team. Managing the goals and expectations of many different skilled and creative professionals is no easy task. The key, she says, is understanding the difference between delegation and collaboration.
"When you talk about delegating something, you know how it should be done, and you ask somebody else to do it for you—that's how I think about delegating. But that's actually not what works best in a creative and collaborative space. When you work with really smart and passionate people, telling them what to do and how to do it diminishes their own sense of creativity, their autonomy, and their agency."
Instead, she says, her job is to "create an environment where people can work together in really successful group dynamics." It requires thoughtfulness and care, but often leads to better results.
Trang likens the process to game design itself. "I really respect the artists who design environments, because when you open up a game and get that feeling of excitement as you first walk through its world, you know you're going to have fun. While there's going to be challenges and there's going to be puzzles to solve, you know this world is designed for you to be successful."
"I think leadership is similar. A good leader designs an environment where people can do good things together and where, collectively, you have a higher chance of success."
Powering The Passion
For someone as long-tenured in the gaming industry as Trang, it can sometimes be difficult to find consistent motivation. We also asked what helps push her forward.
"I like to problem solve," Trang says. But more importantly, her dedication goes beyond the satisfaction that comes from finding the best solution to any pertinent issue. "The reason I've done this for so long is the memories you create when you get to work on these products."
"I've met people who've played games that I've worked on. They tell me that this was one of their favorite childhood games, or that it was a defining moment for them in their life." Recognizing the value of creating these types of memories for players becomes Trang's motivation for the next project. "What we want to do is solve the problems that get in the way of giving a player an experience that delights them—something that makes them smile and say: ah, somebody paid special attention to that."
She notes that those types of player experiences are often overlooked in favor of more immediate or grander concerns. But they're just as important.
"And that's the thing that's really unique to Sony Interactive," she adds. "Here, you live this value and have this understanding that all of our efforts are really for the players. We make decisions with the player's experience at the top of mind."
The Craft of Gaming
Although the landscape of the gaming industry has changed significantly since Trang first started at Sony Interactive, she does have salient advice for those looking to start their careers in gaming in 2023: simply having a passion for playing video games is a good start, but it's not sufficient.
"I think what's really important to a long-term career in the game industry is your need to love the craft that goes into making games, or making those experiences for people," she says. "You have to care about the medium as a craft, not just the end result, because the craft changes as the technology changes. The types of games we play change over time, but your passion has to keep growing and evolving."
She believes that a sincere dedication to the work itself, not just the finished product, is the key to maintaining longevity in an ever-changing industry.
"Whether you want to be in marketing, or on the tech side, or in game design, you have to love the craft. Develop that appreciation and love, and it will feed you continuously."
Comforts & Core Values
These days, Trang maintains her passion for playing video games, but you'll just as soon catch her reading a book with her pets than playing the latest AAA title. "I love having coffee with my dog on my lap while reading a novel," she laughs. "I like to bundle joy together."
And just as in her personal life, bundling joy is a guiding philosophy for Trang in her professional life, as well.
It comes back to what makes Sony Interactive Entertainment such a unique workspace, she says. "It's the celebration of creativity, it's the use of technology to further that creativity, and it's putting it all together to benefit the players. When you work with people who share the same values as you, that's why you stay, year after year after year."