Marvel's Spider-Man 2: An Exclusive Look Into the Brand Collaborations Surrounding the Game's Launch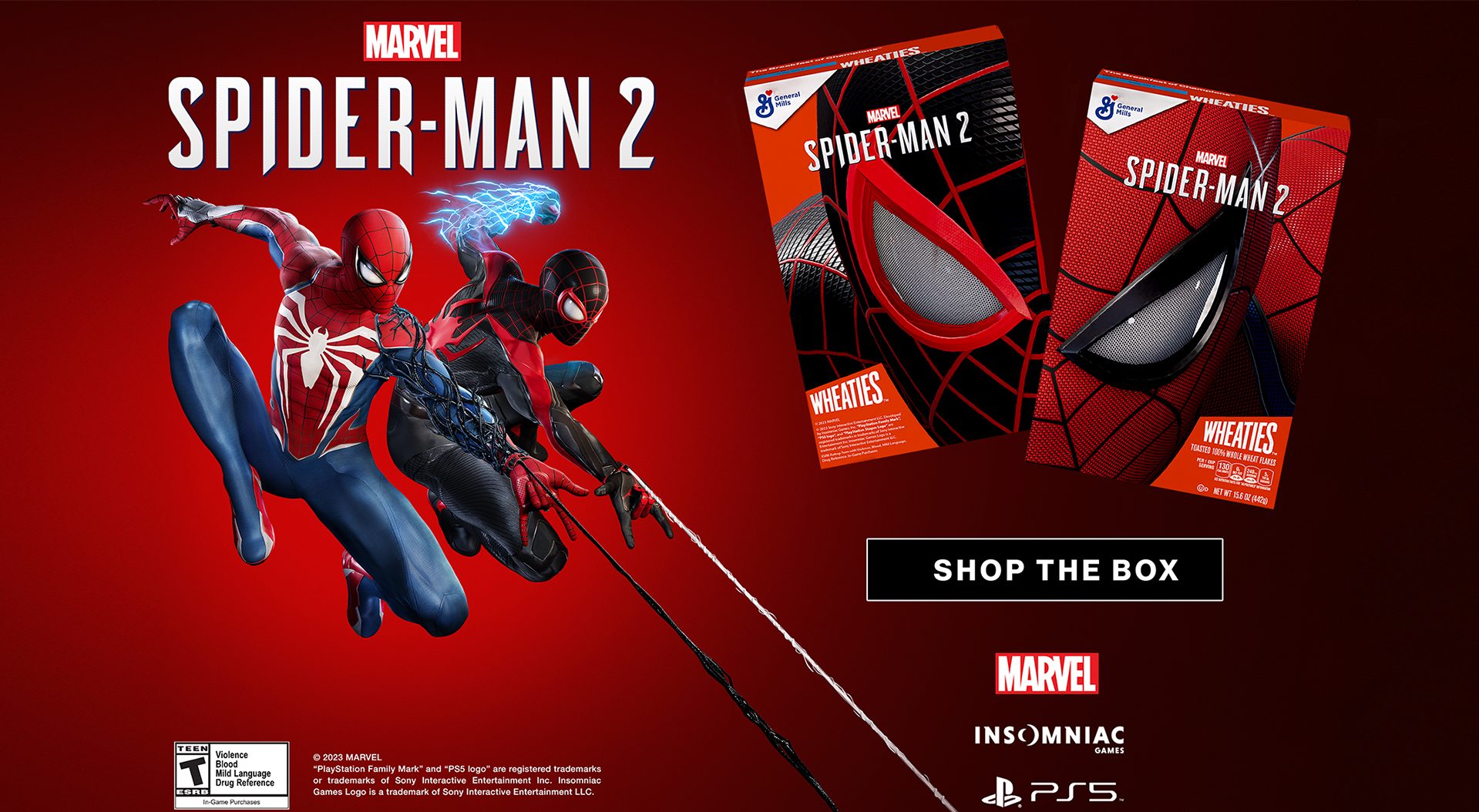 Be Greater. Together. This tagline attached to Marvel's Spider-Man 2 is not simply representative of bringing together the two Super Hero leads of Marvel's Spider-Man and Marvel's Spider-Man: Miles Morales, it is the spirit that guides the strategic collaborations for the new game. With the combined power of incredible teams at Sony Interactive Entertainment, Insomniac Games, Marvel Games, and Disney, some of the world's most beloved brands are getting in the mix by bringing Marvel's Spider-Man 2 to their products and also appearing in the game's virtual Marvel's New York.
From limited-edition cereal boxes to exclusive apparel collections and an unforgettable scavenger hunt experience, these strategic collaborations and marketing activations combine for an exciting fusion of gaming and pop culture that sees the community-focused origins of our Friendly Neighborhood Super Heroes serve as the foundation for one of the biggest video game launches of the year. With assistance from Meah Benage, Manager of Global Brand Partnerships at Sony Interactive Entertainment, and representatives from the many teams who worked together on these initiatives, we're taking a closer look into the ideas behind these monumental collaborations.
A Historic First for the Breakfast of Champions
Wheaties was created in 1921 to honor athletes who excel within their sport and go above and beyond for their communities.  More than 100 years later, Marvel's Spider-Man 2 is the catalyst for a legendary novelty box  as Peter Parker and Miles Morales become the first video game characters to be depicted on the "Breakfast of Champions" due to their shared perseverance, commitment to do the right thing and willingness to serve others.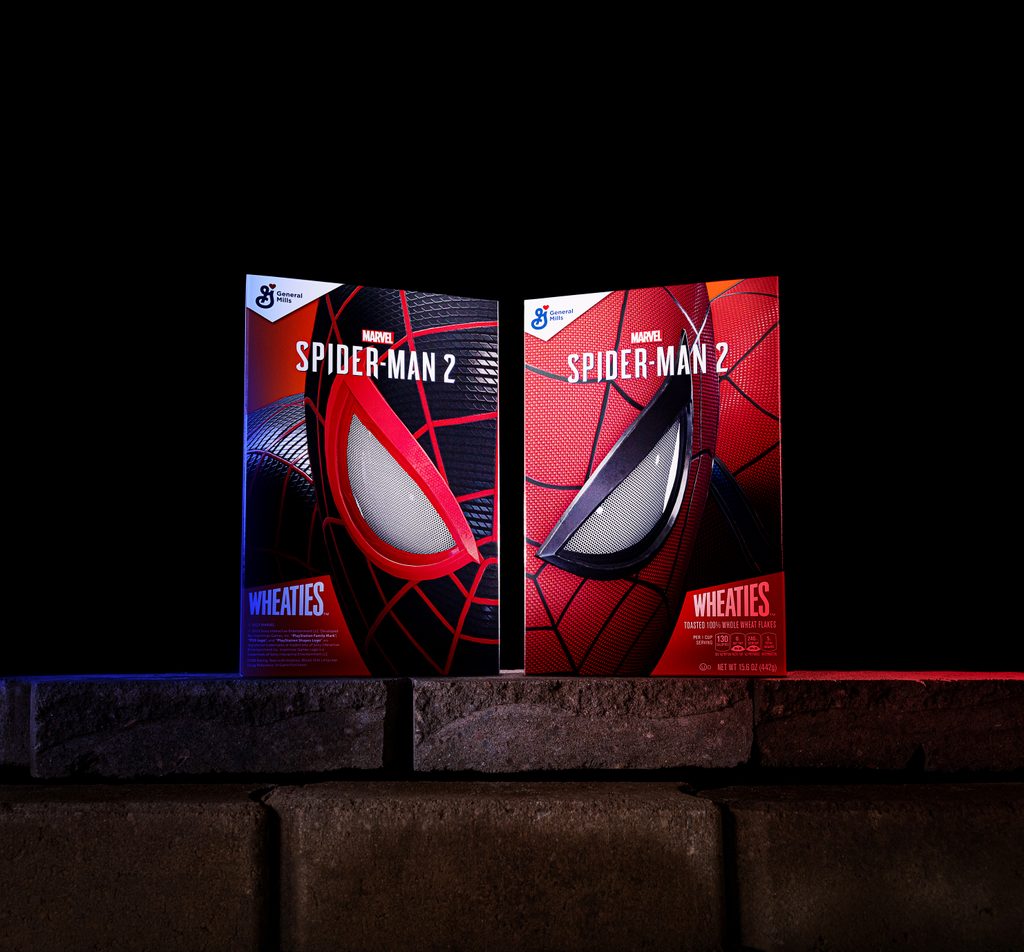 "Wheaties is known for showcasing icons of all types," Benage says. "When it comes to championing the best in all of us, Spider-Man and Wheaties just felt like a natural fit. When looking at the people featured on the box throughout history, Wheaties has an extended list where they note the many firsts like the first female athlete to appear on a box, first Secretary of State, and more. We're really excited to bring the first video game characters to ever be featured."
Peter Parker and Miles Morales will grace the limited-edition Wheaties box at the same time, another first for the brand, using a unique box design the Sony Interactive, Insomniac Games, and Marvel Games teams helped with. With one of the game's key features of being able to switch between the two heroes almost instantly in the open world, the dual-sided milestone feels like perfect synergy. The limited-edition box will be sold exclusively at Shop.Wheaties.com until supplies run out.
adidas is another popular global brand we're engaging with for the launch of this highly-anticipated title. In 2020, the athletic apparel and footwear corporation released a Marvel's Spider-Man: Miles Morales-inspired sneaker that players could also see in the game via one of the special unlockable suits.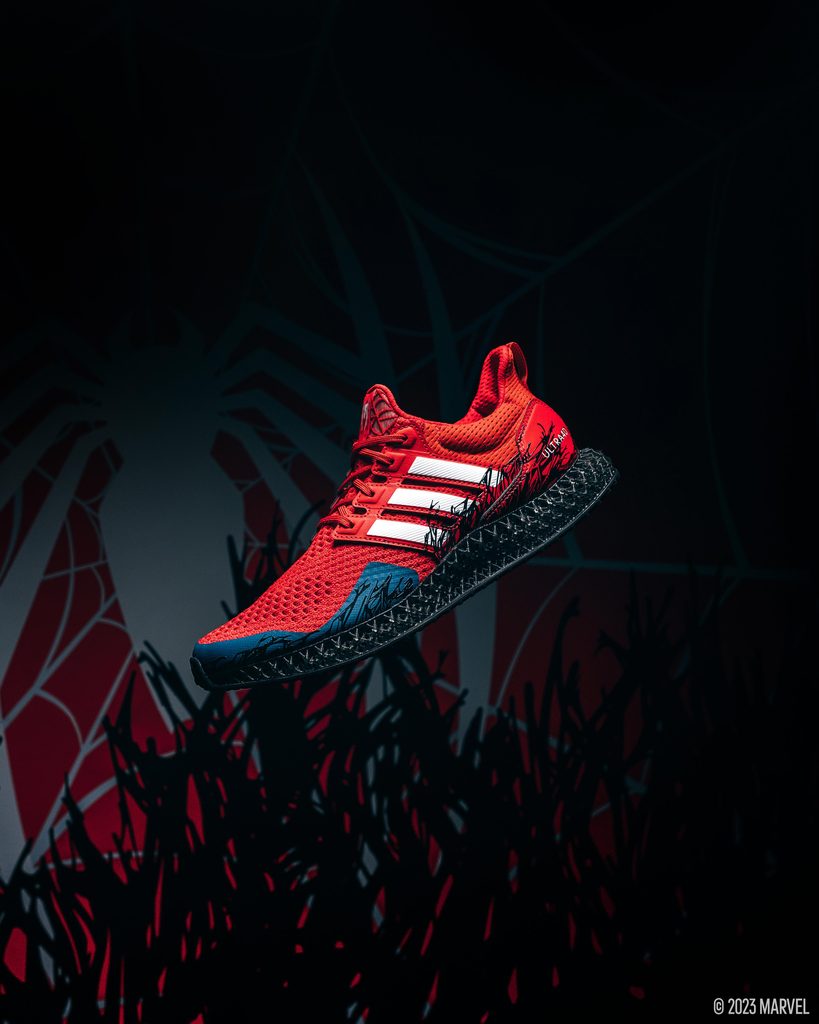 "We saw the reception that the Miles Morales sneaker had," says Benage. "We're pleased to see an even larger collection this time around so that even more people can engage with the products and celebrate their love for the IP."
"Working closely with adidas to showcase the aesthetic and depth of the game, along with how the game world has been expanding and evolving since the first two Marvel's Spider-Man games, was essential," says Eric Monacelli, Senior Director, Product and Franchise Development at Marvel Games. "We wanted our fans to be able to fly their favorite franchise flags to show off their love for our Spider Heroes and Super Villians via this collaboration."
Community Impact & Brand Diversity
"One of the game's themes of 'Be Greater Together' is something we really took seriously with our collaborations," Benage says. "Both of these Spider-Men need to lean on each other and those closest to them, in order to save the day. That was how we also looked at our collaborations. How can we — Sony Interactive, Marvel, Disney, Insomniac Games — all collectively be strong together and help drive that story and message to Spider-Man fans."
In addition to Wheaties and adidas, the collaborations with the eyewear brand Warby Parker, BAIT, and Haerfest (pronounced "harvest") perfectly exemplify the idea of strength in community.
Warby Parker offers designer-quality eyewear and has their Buy a Pair, Give a Pair program where for every pair purchased, a pair of glasses is distributed to someone in need. To date, they've distributed over 15 million pairs, giving people the glasses they need to learn, work, and achieve better economic outcomes.
Warby Parker is launching a limited-edition collection of eyeglasses and sunglasses inspired by Marvel's Spider-Man 2 and these frames will be part of that program as well.
"Warby Parker embodies the spirit of "Be Greater. Together." with how they run their business," says Monacelli. "We're grateful and excited to collaborate with them on this first for the Marvel's Spider-Man franchise and the first in-game eyewear collaboration with our Spider-Man IP ever."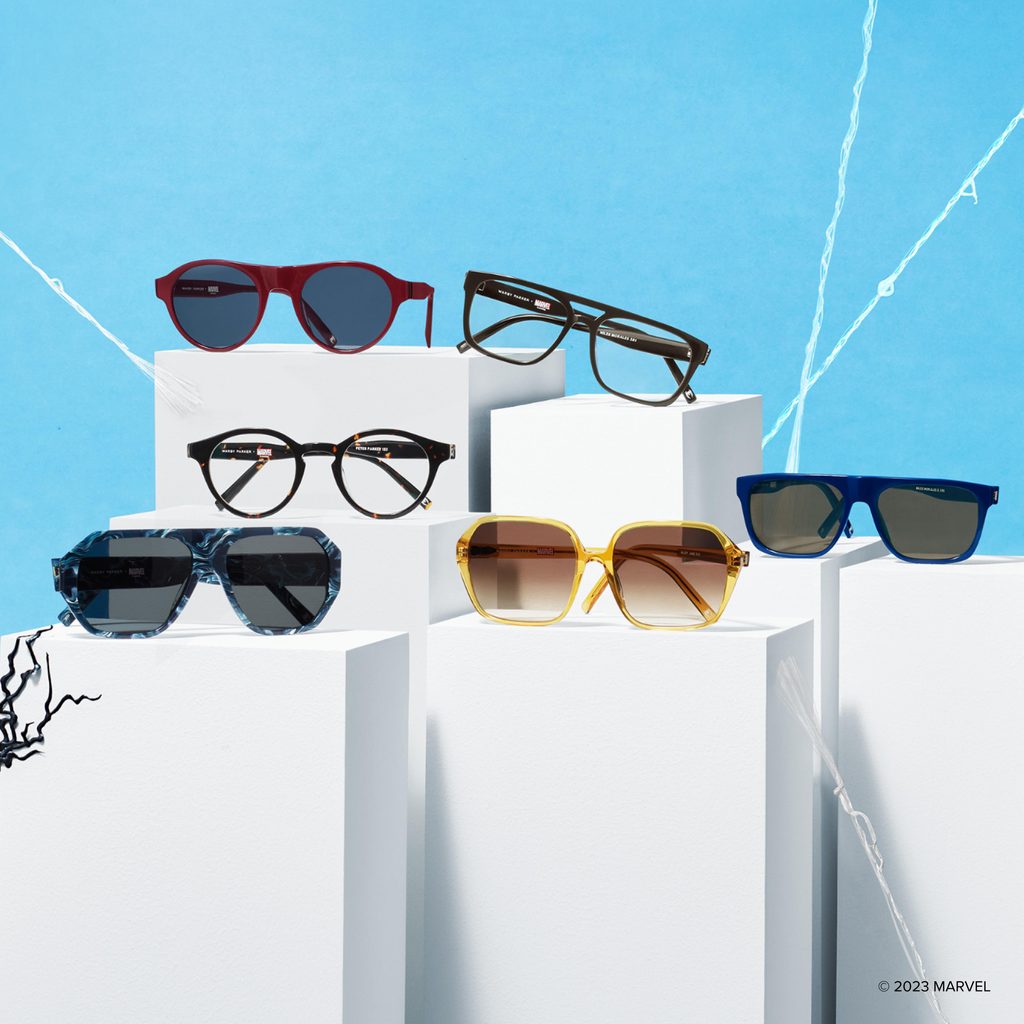 Another way to support the community is through a focus on diversity, spotlighting the different experiences of people from all walks of life. "Jacinda Chew, Senior Art Director at Insomniac Games, wanted to emphasize the importance of diversity within communities and giving people a platform to express themselves and even have representation in the game," Benage says." Especially because a lot of the brands resonate with Marvel's characters."
"Haerfest is a Korean American owned brand based in New York City making sleekly designed bags and accessories. They also have a subtle, but powerful line of clothing and accessories featuring the line 'Nothing Changes if Nothing Changes' in response to the fight against anti-Asian hate." Chew explains. "I imagine a character like Ganke Lee wanting to show his support for a local brand that aligns with an issue close to his heart. We collaborated with Haerfest on a custom bucket hat featuring this line. Ganke's Brooklyn Visions Backpack is also custom designed by Haerfest and features the BVA colors and logos."
BAIT, another company that is releasing exclusive Marvel's Spider-Man 2 gear, is an Asian American owned Los Angeles based global retailer specializing in footwear, collectibles, and apparel with locations along the west coast, Japan, Taiwan, and China. BAIT also does apparel that frequently collaborates with multiple partners in the pop culture space.
Brooklyn's Great Hunt
Beyond individual product activations and traditional marketing support, Sony Interactive and Marvel Games are joining forces with adidas, Warby Parker, BAIT, and Haerfest to create an exciting, exclusive scavenger hunt experience in Brooklyn. This invite-only launch day event will bring fans of the Marvel's Spider-Man series together for exciting challenges and adventures in an iconic neighborhood at the heart of the Marvel's Spider-Man universe.
"Brooklyn has a heavy emphasis in Marvel's Spider-Man 2," Benage says. "So it's pretty exciting to bring our collaborators, some of which are already stationed there, to the borough and celebrate the game on launch day. It's a cool way to show off what we've all been working on and it mirrors some of what you do within the game itself.
There are also chances to win prizes, interact with Insomniac Games, get some of the limited creations from our collaborations, and also try the game for themselves.
Spinning A Web Together
Collaborations like these serve as a testament to the enduring power of beloved characters and the creativity that can emerge when companies join forces to celebrate them. Marvel's Spider-Man 2 has once again proven that the Spider-Men are not just characters but cherished icons that bring excitement, action, and a solid message of community to people of all ages.
"A lot of love went into crafting absolutely everything for the game and the collaborations involved," says Benage. "The reception the previous games received made them some of PlayStation's top-selling first party games of the past decade and we can't wait for fans to play Peter and Miles's next adventure in this sequel. They should all keep an eye out for some creatively integrated easter eggs from some of our collaborators as they swing around as well."