Origins – PlayStation Productions
Asad Qizilbash, Head of PlayStation Productions & Head of Product, PlayStation Studios talks about the creation of his passionate team that evolves PlayStation IP to TV/film.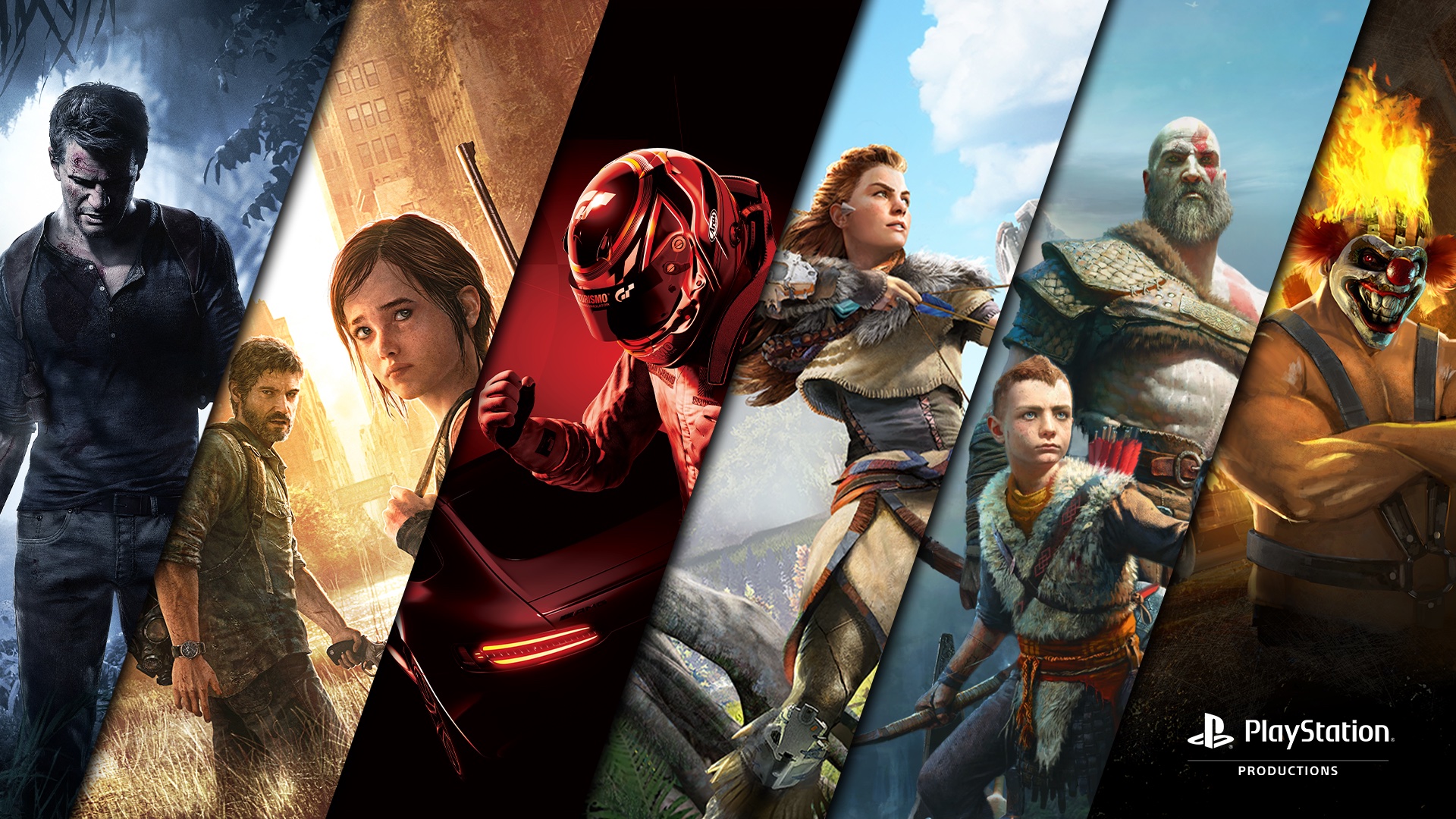 In 2019, Sony Interactive Entertainment announced the formation of PlayStation Productions, a production studio created to adapt our beloved IPs to television and film. Since then, PlayStation Productions has been integral in the production of the Uncharted (film) whose box office has now exceeded more than $400 million worldwide and The Last of Us TV series which is now averaging 30.4 million viewers across its first six episodes and is the most-watched show in the history of HBO Max in both Europe and Latin America.
We sat down to chat with Asad Qizilbash, Head of PlayStation Productions, to understand how this new division within Sony Interactive Entertainment came to be and what we can expect in the future.
What is the origin of PlayStation Productions? What were the earliest conversations like?
Asad Qizilbash [AQ]: What drove the creation of PlayStation Productions were a number of factors. Firstly, there was a desire to find new ways of growing audiences of our game IP. Secondly, we were seeing the success of Marvel Studios in how they were adapting comic books for Disney. Finally, Kenichiro Yoshida was challenging the Sony organization to find ways to collaborate more and create tighter synergy between Sony groups.
All of these factors birthed the idea of creating an entity within Sony Interactive Entertainment (SIE) that would be tasked to adapt our video games into film and television at Sony Pictures.
What came first? Was it the creation of PlayStation Productions or did it start with the desire to evolve one IP into a film and TV property?
AQ: It started with the creation of PlayStation Productions. We did have a number of video game franchises with the ambition of becoming global entertainment franchises, such as God of War, Horizon, The Last of Us, just to name a few. However, it wasn't till we formed PlayStation Productions and the partnership at Sony Pictures, that these franchise growth dreams became a reality.
Although we have over a hundred game IP's both active and dormant within PlayStation Studios catalog, we felt it best to focus our initial efforts on adapting Uncharted and The Last of Us. The thought there being, if we can get those two right, we can get everyone at Sony really excited about what we're doing.
How do you take something interactive and turn it into a narrative? What are the big-picture challenges and what are some of the little ones?
AQ: There's not one size that fits all in terms of a method of adapting video games to film or TV. Using The Last of Us and Gran Turismo as examples, they're actually two extremes. You've got The Last of Us, which already has a strong underlying narrative, world, and characters and then Gran Turismo, which doesn't have any of that. So our approach has to be very different.
When adapting The Last of Us to TV, the challenge was to find the perfect balance of what to leave out from the game, and what new things to add that couldn't work in a video game, such as going deeper into side characters. It's all about using the source material as inspiration versus as a rule book. For this, it was so important to find a brilliant TV show creator who loves and respects your game IP. Craig Mazin was the perfect choice.
The other example is Gran Turismo. There was no established story within the Gran Turismo franchise of games. Working with Jason Hall (American Sniper) and Zach Baylin (King Richard) they created a film centered around the true story of Jann Mardenborough, who played Gran Turismo and ended up becoming a professional race car driver.
In terms of challenges, I'd say we are still relatively new to this and so are still experimenting with how we tell stories. Although we may not always get it right, you can guarantee we will do something exciting and unexpected.
Speaking of now being the best time to make all these adaptations, I feel like one of the advantages of this time is technology. Do you feel like advancements in technology have allowed you and PlayStation Productions to accurately translate these stories?
AQ: Yes, in two ways: I would say technology has enabled better storytelling and more emotion in video games. You can see this in the nuance of performance in the characters in our games and the spectacular set pieces. Having strong source material for our adaptations definitely makes it easier than before.
Another area where technology has really helped us tell our stories is with the cameras we're using, such as the new digital cinema camera VENICE 2 by Sony. These have been so pivotal for us in the production of our Gran Turismo movie. The size, mobility and performance of these cameras allowed us to fit them in really creative spaces thus allowing us to capture some incredible racing shots that you'd think are CGI because it's so unreal. The angles we've been able to capture because of the technology are phenomenal.
To what extent do you see that techniques in games and TV/film production are converging?
AQ: I believe these forms of art and techniques will converge even more in the future. I'll give one example that I think is just the tip of the iceberg of what we're doing. For our Gran Turismo film, we actually used the Gran Turismo game engine to create tracks, environment, and cars to do all the previs for the stunts.
I believe that is where the future is going for production. You've got such exceptional high fidelity game content being made now, I can definitely see future game engines and assets being used within film and TV production. That's something that PlayStation Productions is really passionate about.
Is there yet any overlap in particular digital assets being used for both games and films? (Eg, the models of cars from Gran Turismo 7 being used in the GT film). How far away is such a scenario, where you can pluck assets from a game and put them in a film, or vice-versa?
AQ: For Gran Turismo we plan on featuring some of the cars and experiences from the Gran Turismo movie and place them into the game, which I think is going to be really cool. But from a synergy perspective, I think entertainment companies, like Sony, are looking for more ways to bridge gaming and movie/TV content with the goal of welcoming both groups of audiences to their worlds.
Looking at the past couple of years, are there any examples of scenes that you know wouldn't have been able to translate well without all this technology that you're talking about?
AQ: Gran Turismo is a perfect example. I think a lot of the incredible racing sequences you'll see, would have been CGI before, or just really, really expensive. The fact that we were able to put the VENICE 2 digital cinema cameras in certain areas in the car allowed us to take these incredible shots that wouldn't have been possible before.
Some of the night shots we've taken for Gran Turismo are so high fidelity, so clear and crisp and wonderful, again, because of Sony's camera technology.
Sony always wants to fill the world with emotion. What level of emotion comes into play when you are working on a PlayStation Productions project?
AQ: We look to adapt the same philosophy PlayStation Studios has when making games – always starting with story, characters, and emotion. I would say that with everything we do at PlayStation Productions, we will strive to make them meaningful, unexpected and exciting – just like our games.
At SIE, we have the benefit of such a diverse slate of video games that we can evoke so many different kinds of emotions. Uncharted, The Last of Us, Twisted Metal, Gran Turismo, God of War, Horizon… they are so diverse and they have such interesting stories and character arcs and emotional cores.
Everything we do is filled with emotion.
We strive to be the destination for creators. We're in this really exciting time when a lot of the world's best film & TV creators have grown up playing our games and have a passion for video games. Now, through PlayStation Productions, we're able to attract these world-class creators because they can combine their passion for video games and filmmaking.