Sony Interactive Celebrates Pride
At Sony Interactive Entertainment, we want to bring out the best in our global team members and foster a sense of belonging. While Pride month is June in the US, we wanted to take the time to look back over the past couple of months and how we were excited to celebrate our LGBTQIA+ community including our team members and recognize those who have taken that step to live as their true selves in plain sight.
With the support of our employee networks (eNets) including Pride@PlayStation and Represent@PlayStation, Sony Interactive have organized a plethora of events for entertainment, celebration, and education. Social campaigns, events, workshops, and beyond, we are proud to have LGBTQIA+ initiatives and representation on all levels internally and externally.
In addition to holding ourselves accountable by looking over efforts as we charge forward, we hope to serve as inspiration for the gaming community. Here's a high-level overview of key events over the past months across our business.
PlayStation Studios Initiatives
As much as it is important that we recognize our incredibly diverse PlayStation community, we also recognize that same importance within our development teams. Representation and diversity throughout PlayStation Studios opens pathways to experiences that resonate with our vibrant community, especially the marginalized who don't see themselves across media as often as others.
Our teams have cultivated many different ways to celebrate over the last year, so let's take a look at what each of these different PlayStation Studios have done from the latter half of 2022 until now!
Firesprite
The UK-based studio is known for harnessing the power of virtual reality, recently taking playing face-first into the world of Horizon via Horizon Call of the Mountain. Firesprite is proud to celebrate the work of those within the LGBTQIA+ community, as well as continue their commitment to a culture of inclusion and mutual respect across the studio. In addition to helping to raise money for Liverpool City's PRIDE Foundation, the team lead workshops that cover a range of topics from inclusive hiring to understanding diversity, equity, and inclusion:
Insomniac Games
While the team may be hard at work on their next game, the Insomniac Games team took time this month to shine a light on the history of LGBTQIA+ internally with "Insomniac Hosts Pride Month 2023." Particularly The Queer History of New York internal event explored LGBTQIA+ history through the lens of New York City in a combination of historical pictures and personal anecdotes. Attendees learned about the gay immigrant's saloon, terminology and labels, hidden messages and codes, family vs. chosen family, and the famed Stonewall uprising of June 1969.
Insomniac Games also hosted internal events this June for the entire company including a Pride Month Drag Queen Bingo, and AMAs on topics such as being mindful about utilizing pronouns as a sign of allyship, support, fostering a safe space for everyone and more. The team also partnered closely with Santa Monica studios to create a new Pride@PlayStation chapter focused on the studio teams.
Media Molecule
Media Molecule is a studio known for crafting imaginative experiences and working to channel the creativity of PlayStation's community of gamers.
This month, the team celebrated representation by playing queer games inside and outside of the PlayStation sphere and also spotlighted queer creations made in Dreams, their creation system released in 2020. They also hosted a studio bake sale and raised £1,000 for LGBTQIA+ advocacy charity, Stonewall.
Naughty Dog
Naughty Dog, who just celebrated the 10th Anniversary of The Last of Us, also celebrated Pride proudly. Its Pride Task Force set up events for the entire month of June kicking off immediately from the first day by sharing a newsletter about all the events the studio could look forward to for Pride Month.
The studio started with Pride Theme Weeks. Every Friday of the month, studio members could celebrate Pride by sharing photos with different themes including Pride Pets, Flag Day, Gender Euphoria, Pride at Home and Rainbows. Teams were also invited to share written submissions or a creative piece on Slack regarding important LGBTQIA+ people or allies in their lives and they were collected to form a company magazine at the end of the month for everyone to see.
Additionally, Pride-themed media activities including a Pride-centered video game and book club and two Pride-themed movie nights were organized. They became topics of themed discussion during the month. The Pride Task Force collaborated with the internal Engagement team to have a cross-department Pride Trivia night. Ending on a sweet note, a Pride bake day where team members could bring in themed desserts was a hit.
Santa Monica Studios
The team behind God of War Ragnarök partnered with Insomniac Games to create a new Pride@PlayStation chapter focused on the studio teams. Even being recently formed, this new chapter has hit the ground running with events like an "Ask a Queer" panel for team members to discuss specific topics related to LGBTQIA+ life. The teams and studios involved are already looking forward to more events throughout the year that highlight and center the experiences of their LGBTQIA+ developers through this new chapter.
Bungie Initiatives
Bungie's internal Trans@Bungie and newly formed Pride@Bungie IDEAs (Inclusion, Diversity, and Equity Associations) collaborated to bring a collection of activities and events, crafting a meaningful, educational, and encompassing Pride Month for their members.
For the 34th anniversary of National Coming Out Day (October 11, 2022), Bungie featured LGBTQIA+ cast members from Destiny 2 in Pride-themed wallpapers and released a free "End of the Rainbow" transmat for players. For 2023, they added a new "Rainbow Connection" emote that is also free for players in all regions.
The Bungie team also brought support into the real world, continuing their ongoing relationship with the It Gets Better Project, a non-profit organization with a mission to uplift, empower and connect LGBTQIA+ youth around the globe. The organization reaches millions each year and Bungie established new ways for people in their community to donate, including through purchases of their Pride 2.0 pin in the Bungie Store. Bungie also celebrated a return to the official Seattle Pride Parade, a feat that brought the studio and Destiny 2 players together to celebrate what Pride Month means to them."
Global Events
UK
The London offices hosted an internal Pride party featuring local drag performer Miss Chanel No. 5, Welsh bisexual comedian Morgan Rees, and Gal Pals, for a queer party anthems DJ set. In addition, the PS UK team sponsored the Pride In London parade inviting the EU chapter of Pride@PS eNet members and its allies to participate. The parade featured a branded float and performances from UK Drag artists Asttina Mandella, Eden Queen, Brenda Rant, Lucy Caboosi, and Monroe.
Australia
Teams in Australia partnered with Aussie Queens from Australia's Drag Race Down Under series as they played a variety of games on PlayStation 5. Watch the Queen Team play God of War Ragnarök and The Last of Us Part I on the hardest difficulty and also jump into some Mortal Kombat and couch co-op games.
The team also featured The Sydney Gaymers Group (TSGG), a local community group for geeks, gamers and allies no matter their gender or sexual orientation, as hand models for their DualSense of Pride campaign. They've worked with the TSGG group multiple times over the past year.
Japan
Sony Interactive sponsored the Tokyo Rainbow Pride parade for the sixth year since 2018. Aside from hosting a themed booth where visitors could take unique rainbow-filtered digital photos with the PlayStation Shapes, Sony Interactive employees marched the streets of Tokyo to show their pride and align with the Japanese community as they stand as LGBTQIA+ allies. Prior to the event, the team in Japan also held an in-house awareness event about the importance of self-affirmation with a famous Japanese drag queen.
United States
Throughout June and July, Sony Interactive employees including members of Pride@PlayStation eNets of the local offices participated together with Sony sister companies at multiple Pride parades.
Los Angeles – Sunday, June 11, 2023
San Francisco – Sunday, June 25, 2023
San Diego – Saturday, July 15, 2023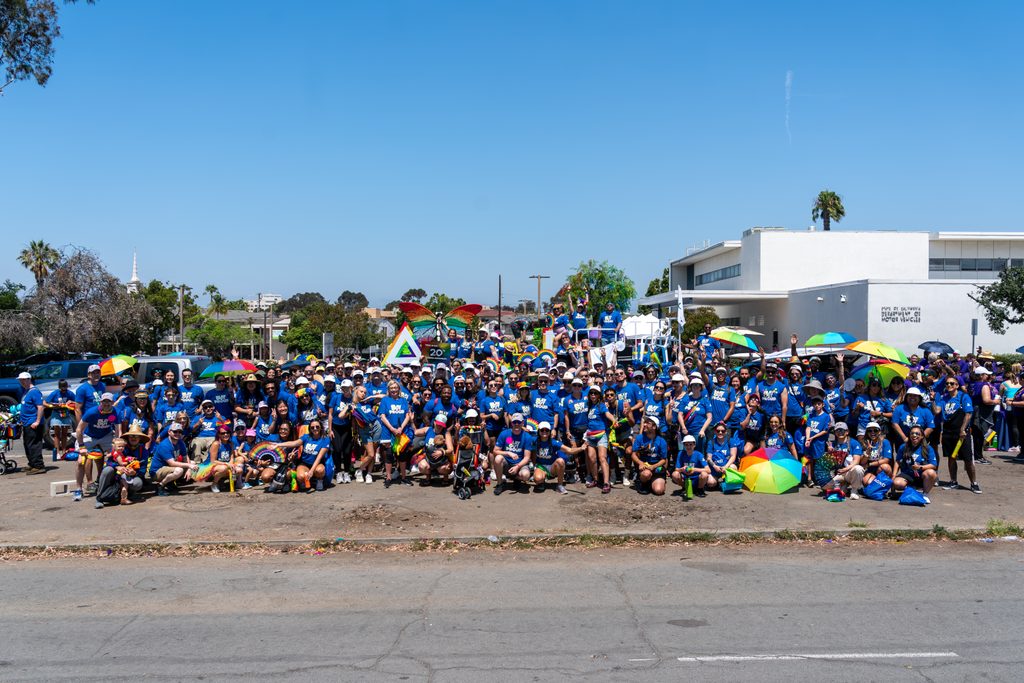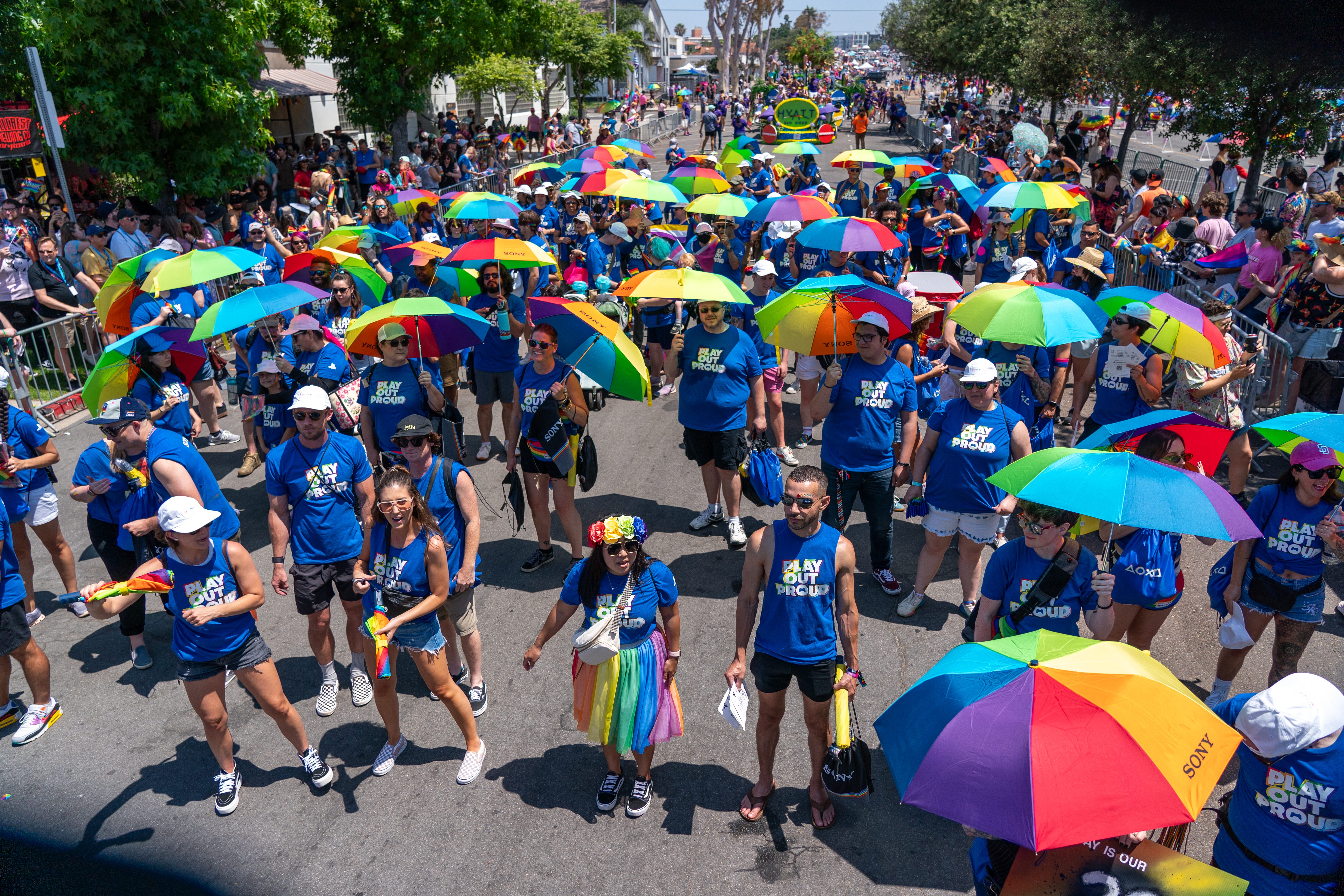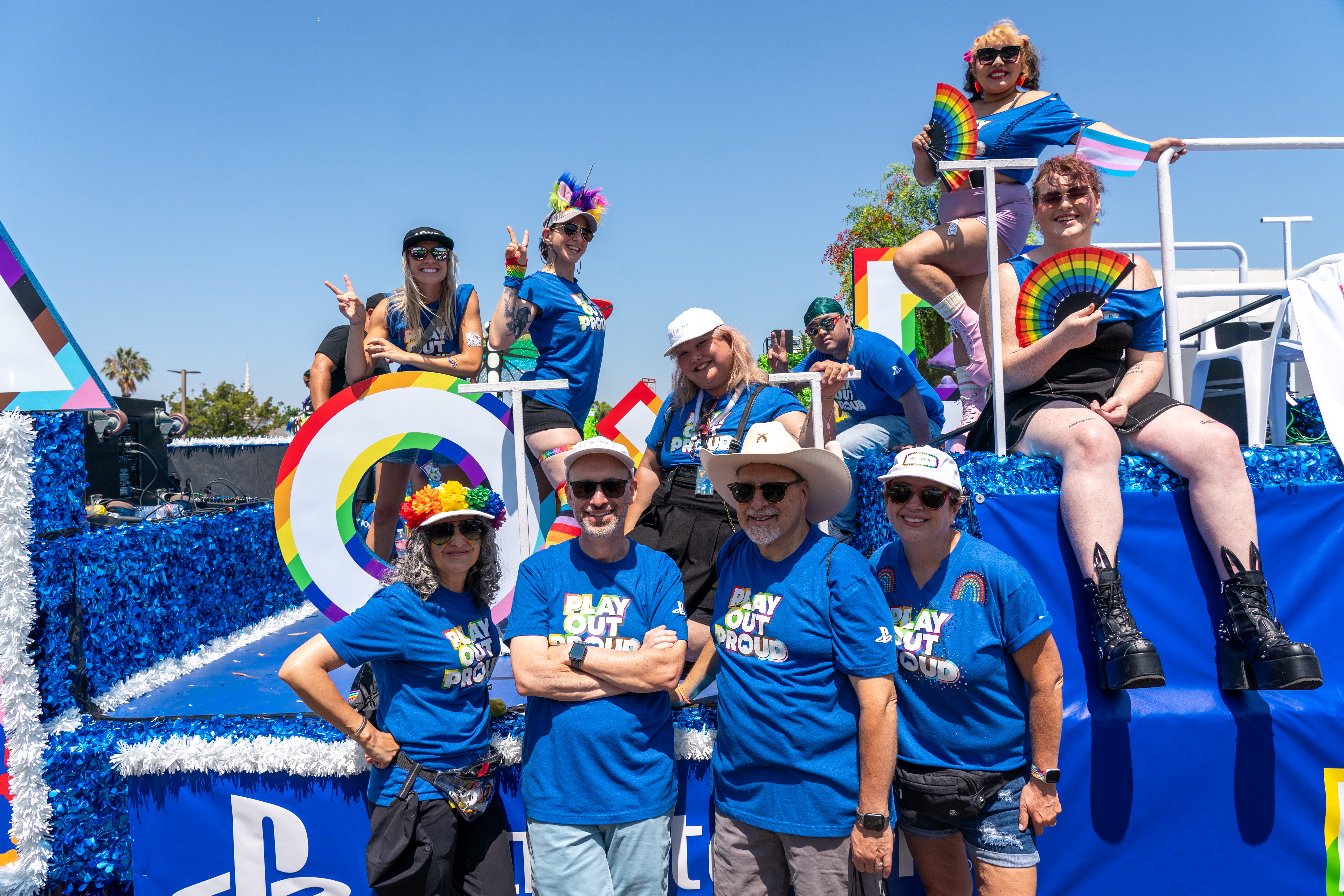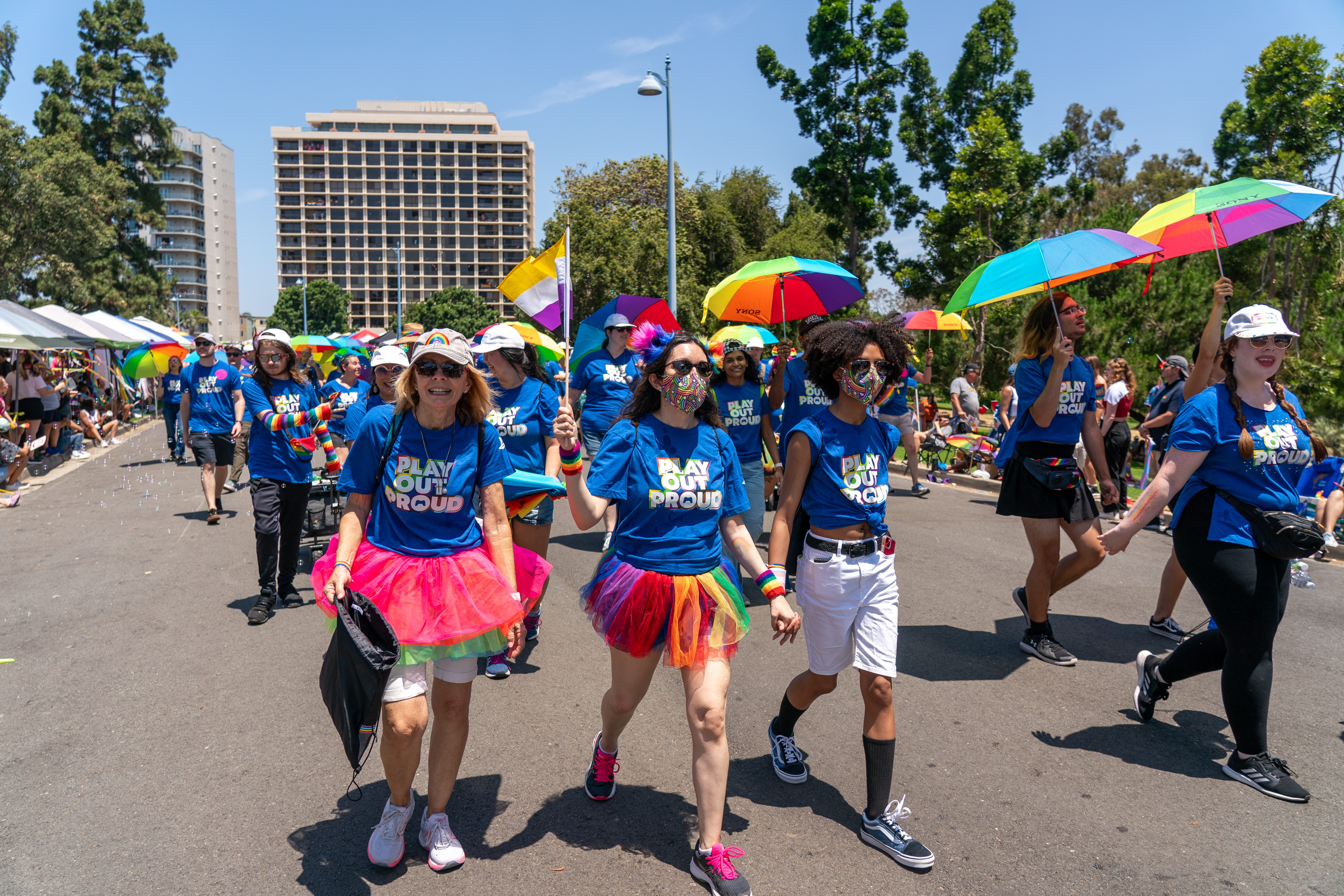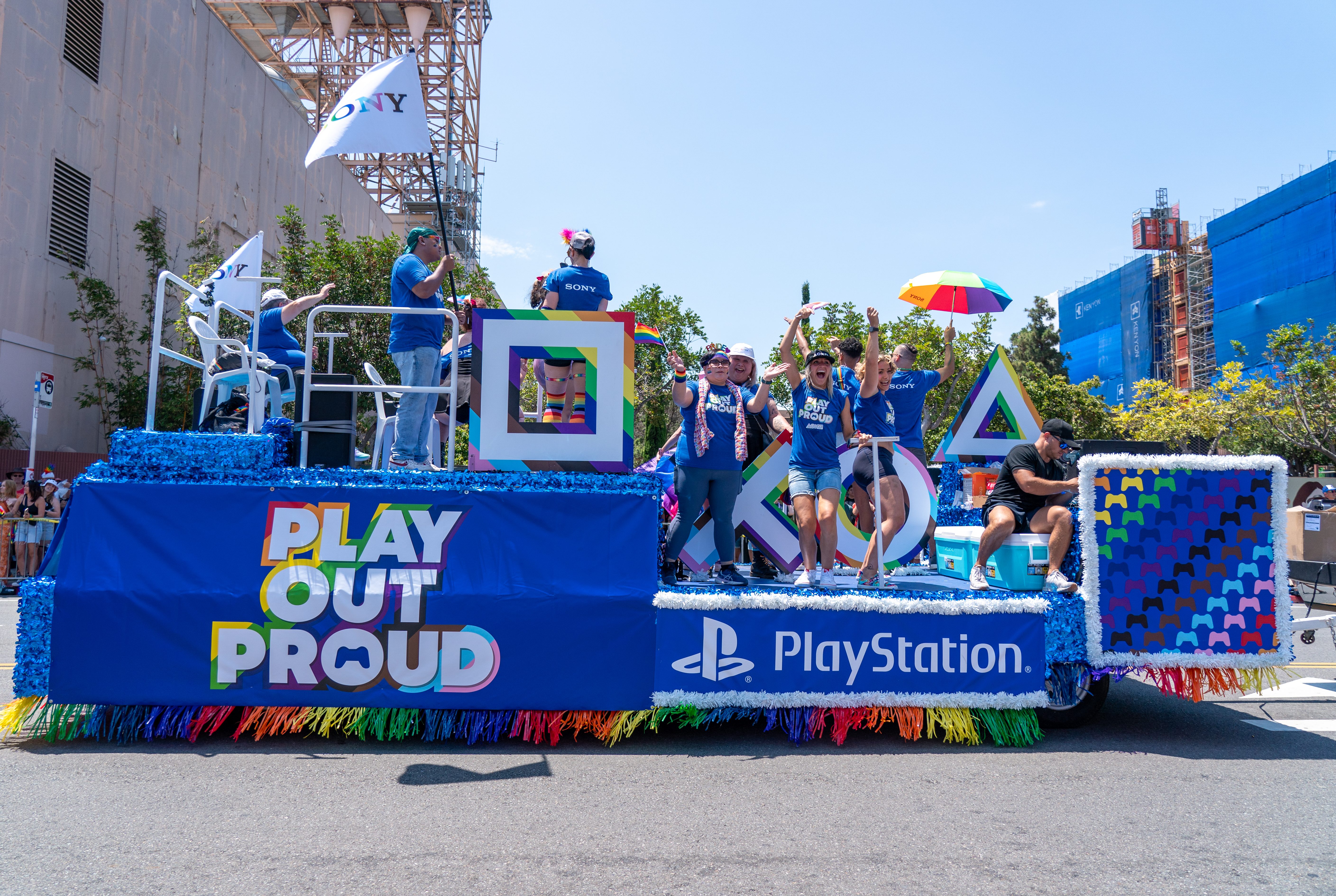 Play Out Proud
At Sony Interactive we believe in amplifying the voices of LGBTQIA+ creators, sharing a unique perspective and opportunity to play as LGBTQIA+ characters and encouraging narratives that support the LGBTQIA+ community. PlayStation Store offers a wide variety of great LGBTQIA+ games for Pride and beyond.
In addition, we invite our PlayStation community to Play Out Proud with exclusive Pride gear available at the PlayStation Gear store.
Celebrating Diversity Today and Every Day
As our Pride@PlayStation chapters grow and we celebrate Pride throughout the year, we are excited to deepen our commitment and partnerships with all of the incredible LGBTQIA+ advocates that do amazing and empowering work every day across Sony Interactive.
We will continue to explore the countless opportunities to help others along their own journey, share resources, inform allies, and continue to celebrate proudly our diverse and vibrant culture and gaming community.