Studio Spotlight – Ember Lab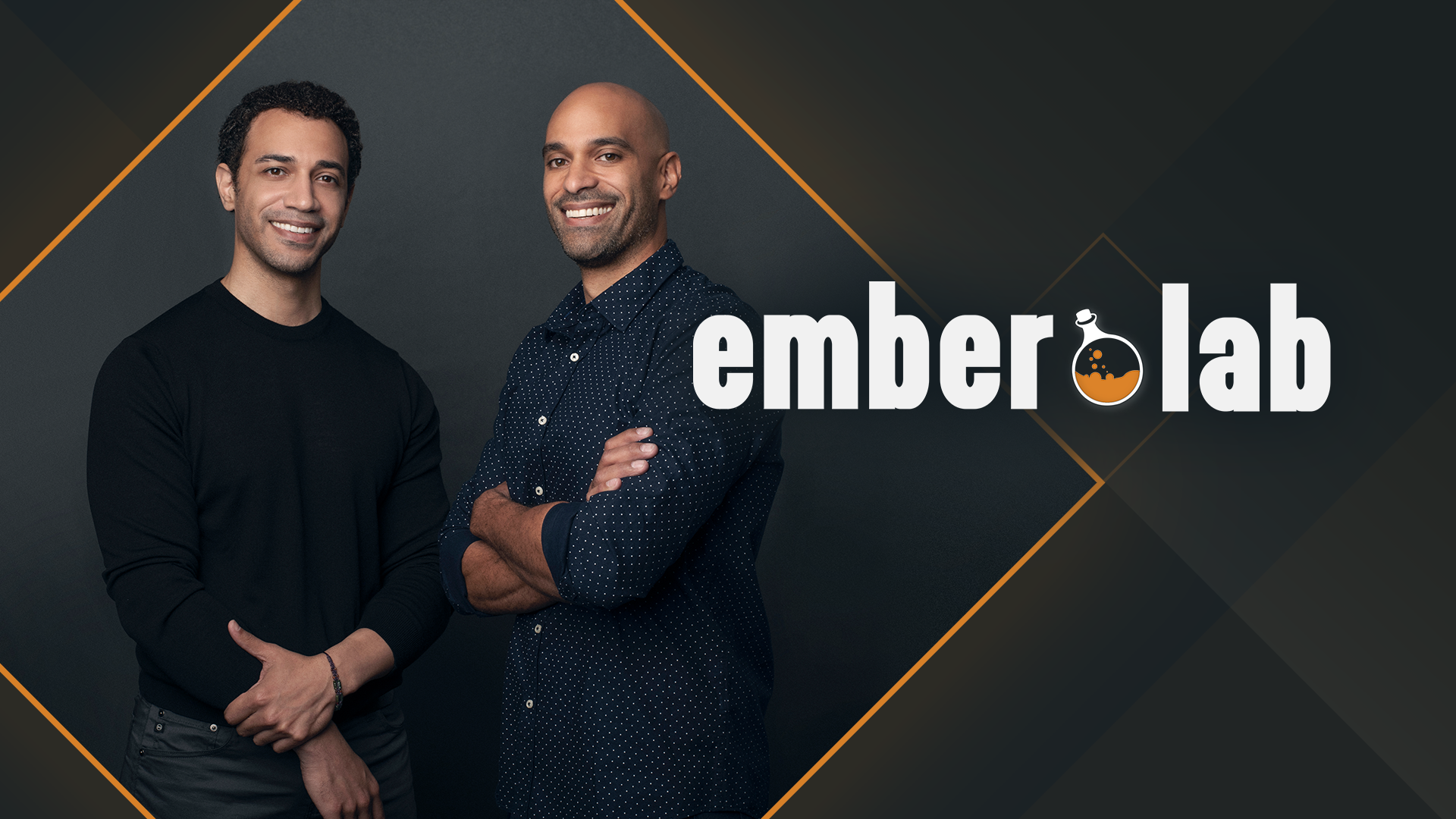 On June 11 of 2020, PlayStation fans were treated to a series of major announcements in the PS5 Future of Gaming showcase. Alongside trailers for many gaming giants, Kena: Bridge of Spirits was revealed to the world, immediately capturing the attention of gaming media and fans with its gorgeous environment, Pixar-like characters, and exciting fast-paced gameplay.
Fast-forward to Kena: Bridge of Spirits' release in September 2021, the title immediately became a breakout hit with overwhelmingly positive reviews from gaming's biggest outlets. Players around the globe dove into the game's world. In its launch month, Kena: Bridge of Spirits was the most downloaded PlayStation 5 game in Europe and third most downloaded game in North America, making it both a commercial and critical success.
But where did this amazing 3D adventure story spring from? We spoke with Ember Lab founders Mike and Josh Grier about how their love of gaming as brothers paired with their film and commercial background inspired their journey from a visual effects and animation studio to a PlayStation game development partner that went on to win at The Game Awards.
"We set out to create a game that we wanted to play as brothers. We grew up playing and enjoying action-adventure games, but also tried to lean into our strengths as animators and storytellers," said Josh Grier, Chief Operating Officer and Producer at Ember Lab. "We wanted to craft a tale of forgiveness and play on the theme of rebirth. From there, we started building some conceptual mechanics."
In Kena: Bridge of Spirits, players step into the role of a young spirit guide named Kena who seeks an ancient sacred mountain shrine that has been taken over by corruption. Accompanied by adorable little creatures known as the Rot, Kena travels the lands surrounding an abandoned village, battling deadly monsters, and guiding lingering spirits to their next life.
Kena: Bridge of Spirits' story began humbly, a conversation over lunch. "We started talking about what it would be like if we made our own game. We could do something special: tell a great story and get people emotionally invested in a world that they connect with," said Mike Grier in his role as Chief Creative Officer. "We were doing a lot of great work in the video commercial space and a lot of narrative storytelling with short films, but creatively, many of the team members, and even myself, always found a lot of inspiration coming from the video game space. We wanted to create some of those experiences for others."
That was the spark. From there, and after getting some ideas on paper, the Ember Lab team thought they had something great in their hands. "It just kept growing. People saw what we were doing and they got excited about it," continued Mike. "So the machine just kept turning and then eventually we landed on the final game that shipped."
Ember Lab was founded in 2009 by the Grier brothers as an animation and digital content studio. Focusing on creating immersive stories through technical innovation, compelling characters, and cinematic worlds, the Ember Lab portfolio soon sported commercials and animated shorts for The Coca-Cola Company, Hisense, and MLB which have been seen all over the world. In addition to Ember Lab's work in commercials, they have also created a number of short films including Dust, a Sci-Fi fantasy inspired by anime and classic horror, and Terrible Fate, an animated short inspired by from the game world of The Legend of Zelda: Majora's Mask. As they've shifted into video games, Mike, Josh, and the Ember Lab team want to continue to be known for polished gameplay that presents a memorable experience and stories with great characters, but most of all, they want to be known for fun!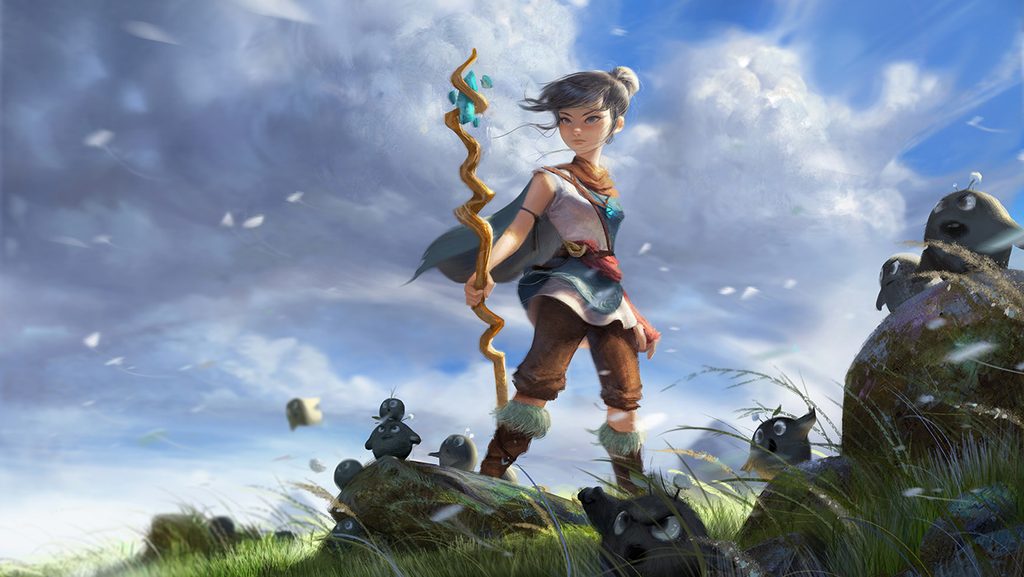 Concept painting for Kena: Bridge of Spirits
Although Ember Lab is well-established as a film and animation studio, Kena: Bridge of Spirits is the team's debut in the world of video games. As new developers, they were able to use their experience pitching projects from their previous life of producing commercials. "We put together a strong presentation of who we are, where we wanted to go with the game, and spotlight the takeaway experience for players," said Josh about their strategy to catch Sony Interactive Entertainment's (SIE) attention. "After our presentation, I think the team at SIE and PlayStation immediately saw the potential in our title and I think that speaks a lot about who they are as publishers. They saw the potential even in the early phase. They fostered it and wanted to see it flourish. They have been our champions from the very beginning and knew we had something special to share with the world."
This support from SIE extended beyond the Future of Gaming showcase reveal. Ember Lab had initially planned on developing Kena: Bridge of Spirits for PlayStation 4, but then a PlayStation 5 dev kit arrived. "To be honest, it was a little bit out of nowhere, but also, as consumers, we kind of knew something was coming. But once we had access to the technology, we needed to ask how the game was going to look? What will the challenges be to port it to a new platform? What are our goals to have Kena on PS5?" Mike said about next-gen development. "To the [SIE] team's credit, they provided us with a lot of trust, but knew that in order to present Kena properly, we needed to start touching the hardware and developing it for a new platform. Once we were provided with access, there was this mutual sense of 'you guys are in the mix now for the next generation.'"
Josh chimes in, "The SIE team had so much faith in us and our team that it was one of the most exciting moments in the process to release Kena. We even had a little unboxing moment when the console arrived."
Kena: Bridge of Spirits has launched as a major success for Ember Lab. Having won both Best Independent Game and Best Debut Indie game awards at The Game Awards as well as a nomination for Best Art Direction, Kena: Bridge of Spirits went on to collect nominations in 2022 for outstanding achievement and art awards at the D.I.C.E. Awards, SXSW Gaming Awards, New York Game Awards, Golden Joystick Awards, Annie Awards, and more.
"There were so many amazing games nominated this year and it was truly humbling to hear the announcements. We were so proud of our whole team and grateful to have everyone's work recognized in such a big way," Mike said about the team's experience at The Game Awards. "It's one thing to watch it from home, but the excitement of the live experience and getting called up there was inspiring."
Mike and Josh describe themselves as lifelong gamers who have been playing video games together as a bonding experience while growing up. As children living abroad, they turned to video games to entertain themselves and engage with each other. "Our dad worked for Euro Disney (now known as Disneyland Paris) and traveled around a lot. We moved to Tokyo and found ourselves living that expatriate life," said Josh. "Embedded in a whole new culture, we ultimately had to rely on each other and our youngest brother for close friendships since we didn't speak the native language. So, games were always a great way for us to stay connected and bond. I think it's part of why we're able to work well together now, just having those experiences growing up as a team unit."
Mike and Josh describe themselves as lifelong gamers who have been playing video games together as a bonding experience while growing up. As children living abroad, they turned to video games to entertain themselves and engage with each other. "Our dad worked for Euro Disney (now known as Disneyland Paris) and traveled around a lot. We moved to Tokyo and found ourselves living that expatriate life," said Josh. "Embedded in a whole new culture, we ultimately had to rely on each other and our youngest brother for close friendships since we didn't speak the native language. So, games were always a great way for us to stay connected and bond. I think it's part of why we're able to work well together now, just having those experiences growing up as a team unit."
Growing up playing games like Uncharted, Zelda, and Metal Gear together helped them build a relationship with each other that would ultimately create the foundation for Ember Lab and the kind of games they want to make. "Whether it's a single player game or something you can explore with a community, we want to build worlds that captivate players and create experiences that you want to share with others," said Mike. "Just like what Josh and I experienced growing up."
So what's next for the Grier brothers? "We've talked a lot about it and I think as a first time developer we learned so much on this project and it was really telling when the game came out. The process, the anticipation, the excitement—we couldn't have asked for more, but we still have that feeling like we could do this better," said Josh. "We can grow and tell better stories, create better experiences just from our recent learnings. Having one success under our belt has given us great momentum going into the next one."