Girls Make Games – Effecting Change Across Time and Space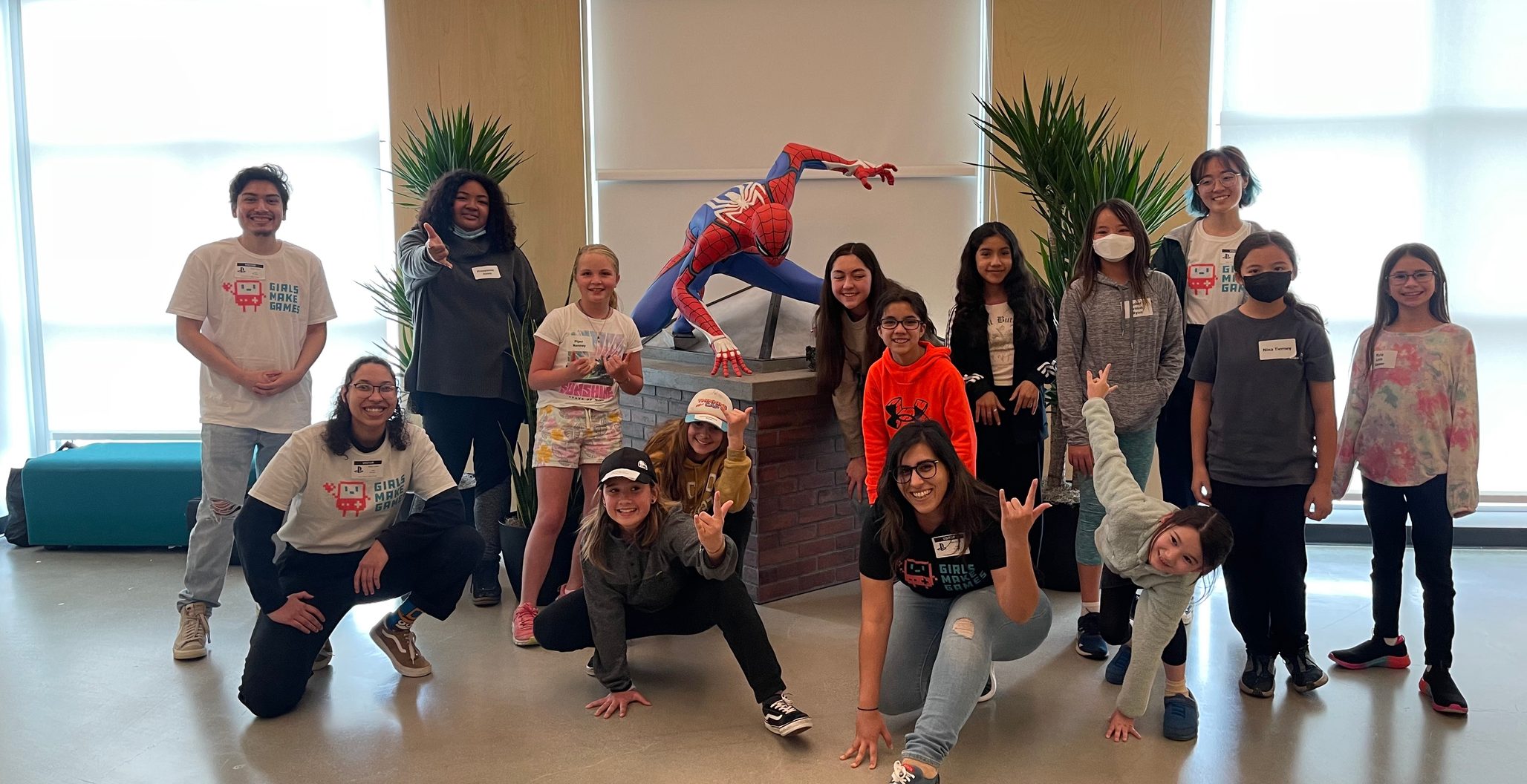 For the last ten years, Girls Make Games (GMG) has been cultivating talent and providing resources to girls interested in the video games industry through our workshops, game jams, and summer camps. It's been incredible to see the changes in the gaming ecosystem at large in the past decade. Just as amazing is the progress GMG, founded in 2014, has made in making girls aware of, and motivated to pursue careers in gaming. It's the indirect changes and results that have been really fascinating to watch, year over year over the past decade.
Our major goal this year, and into the future, is to reach communities outside of the west coast, where we typically hold our workshops. We also want to continue our momentum supporting girls further into their careers in gaming and tech. Exploring the physical spaces can have a transformative effect on the mindset of our students, so, by inviting them into the actual studios responsible for making some of their favorite games, they can tangibly see themselves there. We're delighted to see three separate PlayStation Studios participating in this year's series of partner workshops in different cities — no longer clustered in California — for our first in-person workshops in more than three years. We had a chance to hear from our host studios, Insomniac Games, Sucker Punch Productions and Bend Studio about what it was like inviting GMG into their place of work, showing the girls how they can show the world the power of play.
Three Workshops, Three Perspectives
The importance of collaboration cannot be overstated, especially when one party is in a position where they can impart lots of knowledge to another.
"The kids were amazed at all the avenues they can take to pursue a life and career as a game developer", Aaron Jason Espinoza, Senior Community Manager at Insomniac Games told us. "The girls learned about the many hands involved in making games – animators, writers, audio designers, programmers, community management and beyond."
Simply sharing the multiple entry points is paramount to shaping their understanding of the industry. Joanna Wang, Art Director of Sucker Punch Production, noted during their session that finding a common interest further eases their understanding of their potential path. "They may like art, coding, bits of the pieces of how to make a game. They're at least already interested in games in some way so it is our job to show them the big picture of how we make them."
As inspirational and informative as the collaboration is for the girls joining through GMG, Joanna from Sucker Punch highlighted that these visits are a two-way street.
"We are showing what we normally do daily and the workshops give us a new perspective, reminding ourselves of the passion we feel and we want to share with those girls," Joanna says. "Hopefully that energy level will be passed to the next generation".
Additionally, Joanna felt that questions coming from the different age groups were refreshing considering they typically work with adults from similar backgrounds and similar interests. "There's a very new perspective for our side where we can think about different views for our product," she says.
Sucker Punch Productions Founder Brian Fleming ensured a welcome reception and hopes to see them return soon. "We're a good size studio – big enough for some exciting facilities: mocap, foley studio," he says. "But we're also small enough that I don't think it's overwhelming." Brian signed off by sharing that his team was so grateful they had so many volunteers that they're already trying to schedule their next session.
In the early years of GMG when it was just an annual summer camp event, we would see girls distraught to the point of tears over not being able to see each other until the following year. Today, there are multiple events in a year, both in-person and virtual, and the experience levels are growing exponentially. This is not completely surprising, as our post-event surveys show 97% of participants reported loving the experience and wishing to come back, as 0% report that they wouldn't return. Brian from Sucker Punch easily surmised that about a third had some prior game development experience. "The more experienced participants blew me away with how much miles-on-tires experience they already possess," he said. "But I was surprised also by how rapidly the first-time participants made their first game ever and how quickly they progressed. You could see the light bulbs flickering on — that magic moment."
"Some of these girls are 12, 13 years old and they'll be ready to step right into an entry level position," Joanna of Sucker Punch adds. "It's exciting to see what they're going to be like when they're 22, 23 years old and ready to be hired."
Going the Distance For Girls
Aside from making workshops more geographically accessible, as we look to the future of GMG, we want to support participants beyond our current age demographics. To that end, we have established the Girls Make Games Scholarship Fund, to provide college tuition support and career-specific experience to girls and young women between ages 18-24. Additionally, GMG alumni have access to a community, with resources like summer fellowships, and the opportunity to be matched with a mentor. Through this, some have landed prestigious internships, jobs, and are still happily working in video games. Last year, we shared that the 2017 GMG Demo Days winners, Team Invenio, via publishing by PlayStation have launched their game, Find Me. You can look back on past years of GMG workshops with PlayStation for 2021 and 2020.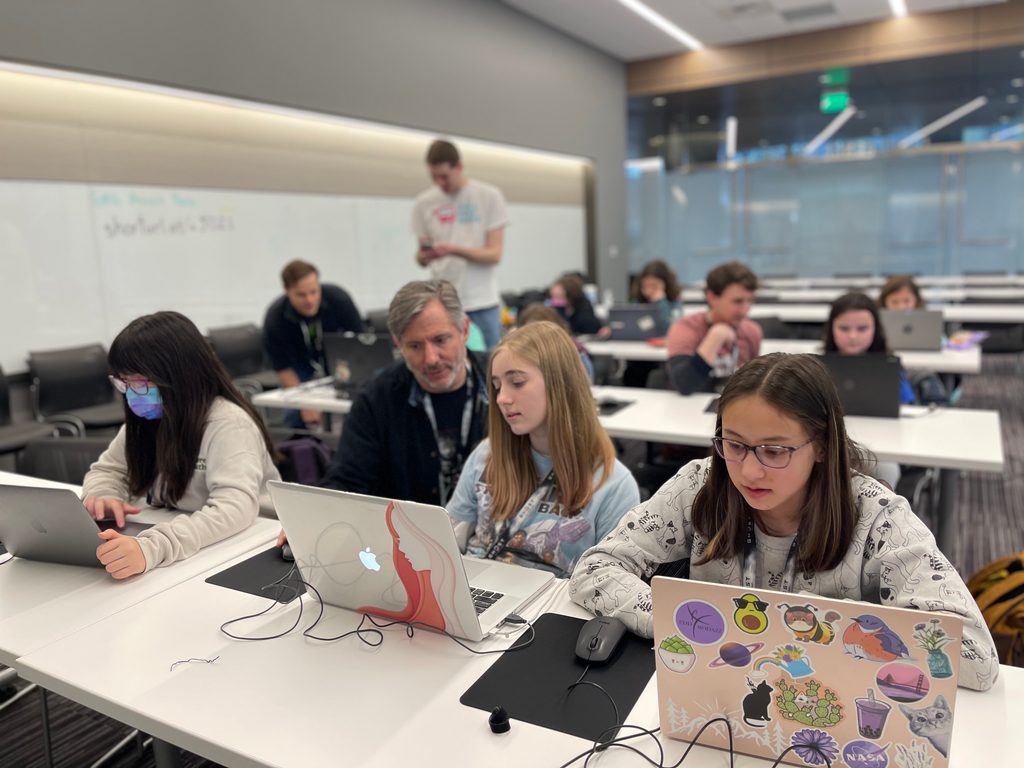 This year, the GMG Scholarship Fund will begin offering college tuition scholarships, camp scholarships, internships, mentorship, and everything needed to kind of help launch a career into the games industry or pursue further education in the industry. Over time, with the non-profit, we aim to establish broader, more strategic partnerships with school districts so that we can actually bring these workshops into the classroom, not just for girls but all genders over the next ten years – overcoming time and space as barriers to the industry.